Paleo 4-Ingredient Ginger Biscuits (Gluten Free, Dairy Free, Egg Free)
Food intolerances and damn awesome treats aren't the greatest of pals – and I soon started missing my Mrs Crimble's chocolate macaroons when I realised they had egg in.
It's tricky to know what to make when you're not a seasoned baker – and you're limited on ingredients. So, I was over the moon when I found a recipe I could modify for ginger biscuits in Breaking the Vicious Cycle by Elaine Gottschall.
For those following gluten-free, vegan or the Specific Carbohydrate diet, or simply wanting to cut out the crap in shop-bought goodies, these soft and chewy delights are the ultimate treat – perfecto with a glass of almond milk, or lovely ginger tea (yes, I'm ginger mad).
They're completely grain free, with no refined sugars and vegetable oils, so paleo aficionados can munch away, too. Plus, you can knock 'em up in 15 minutes.
B-E-A-yootiful.
Paleo 4-Ingredient Ginger Biscuits (Gluten Free, Dairy Free, Egg Free)
Ingredients:
170g almond flour
3 tbsp honey
2 tbsp coconut oil (melted)
2 inches of fresh ginger (grated)
1/4 tsp salt (I used Himalayan)
Method: 
1. Preheat oven to 180°C and line a baking sheet with parchment paper
2. Melt coconut oil in a flat pan and set aside, ready to add to mixture.
3. In a medium bowl, mix together the almond flour, honey, ginger, coconut oil and salt with a spatula or spoon until everything is combined.
4. Cover and freeze dough for 1 hour or until easy to handle.
5. Roll chilled biscuit dough into balls (about 11/2 tablespoons per ball) and place a couple of inches apart on the prepared baking sheet. Flatten each biscuit with the palm of your hand.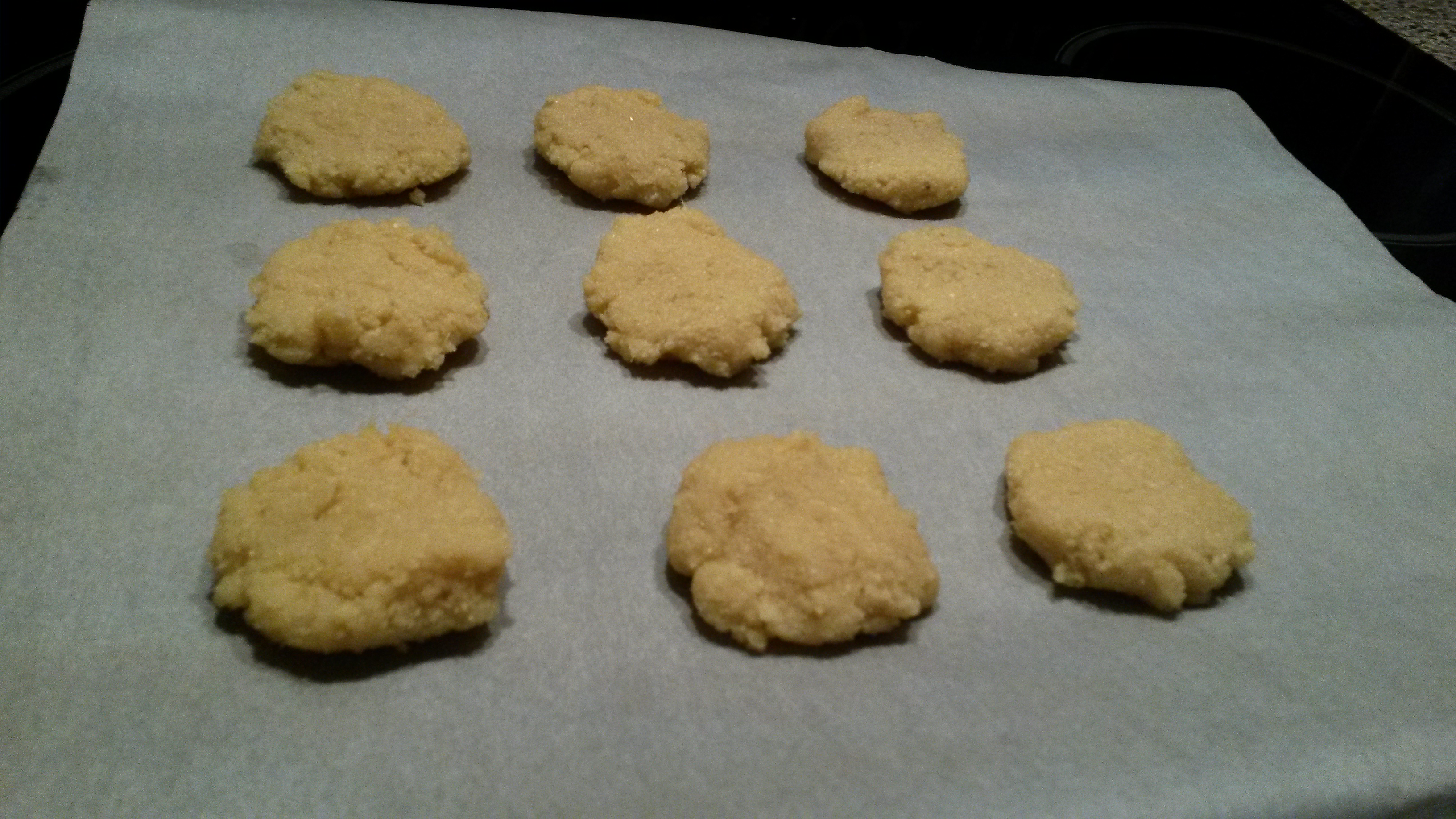 6. Bake for 10 minutes or until the bottom and edges start to turn brown. Careful not to burn them because they do so very easily.
7. Set baking sheet on a wire rack to cool
What are you waiting for? Go knock up a batch! It's pretty much the easiest recipe in the world and even my boyfriend said they were "just like traditional ginger biscuits". MA-HOOS-IVE win in my eyes. 🙂
---
---