RECIPE: Gluten free Christmas pudding cheesecake aka your new favourite dessert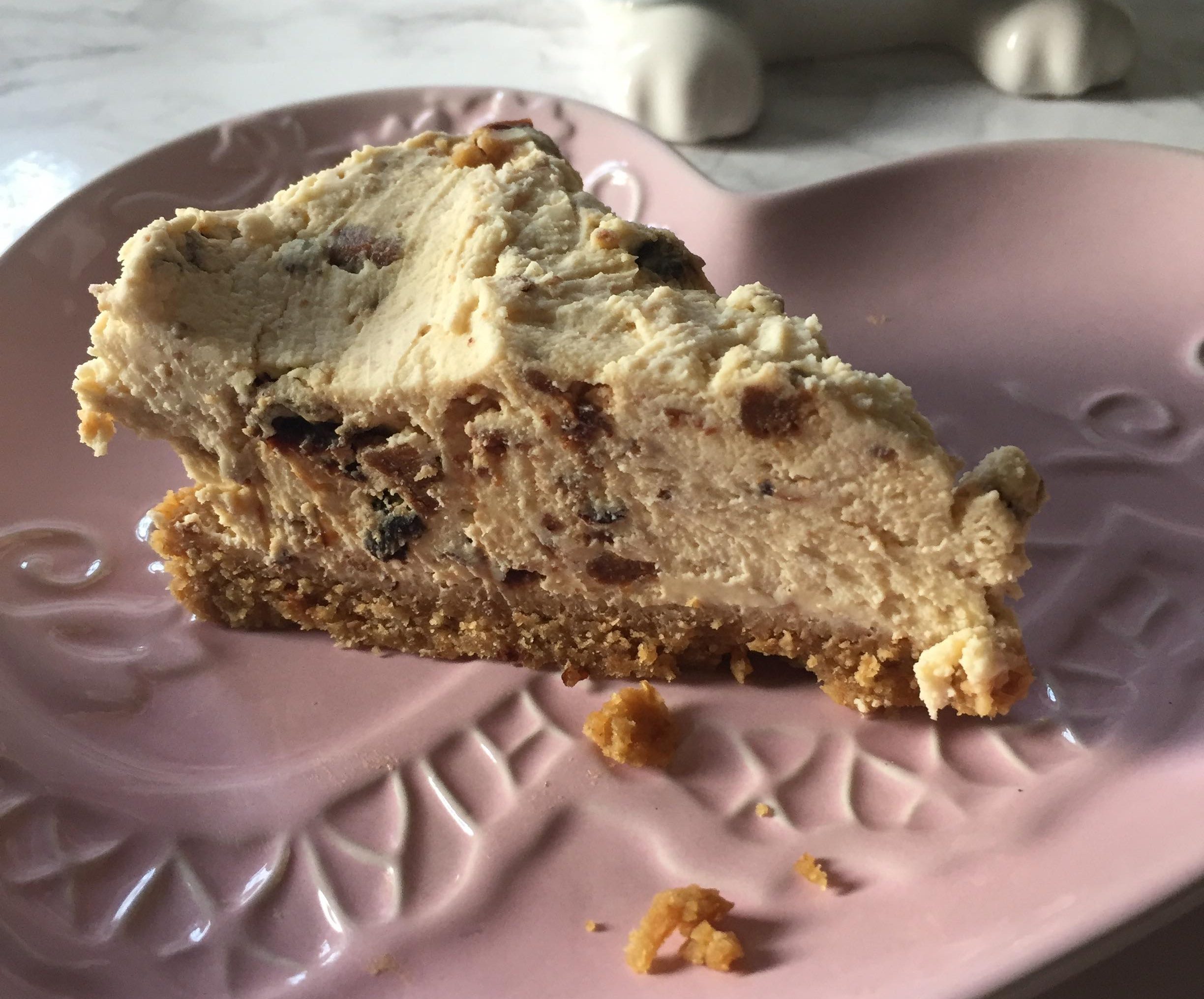 I'm gonna get one thing straight – I don't like Christmas pudding. I'm sure no one likes it really, that's why we set it on fire year after year. But my Mam spends days, weeks, prepping this fruity boy. I'd be a complete heartless bitch not to have a bowl – and I'll take this opportunity to thank Jesus for brandy sauce, it's the one thing that makes it.
So when my mother, queen of the puds, used the words 'gluten free Christmas pudding cheesecake', I was sceptical. Firstly, I couldn't imagine how this would work. But she'd absolutely blown me away with her last creation – behold the epic After Eight no-bake cheesecake – so I kept the faith.
Dear reader, I loved it. I loved it so much I had a photo shoot with the thing. I did an Insta-story of me eating it. All on a day I was absolutely drowning in deadlines. If everything's important, nothing is. And – I know this phrase is thrown around a lot, but I really mean it here – this cheesecake is LIFE.
Festive flavours are hinted at but don't overwhelm – which is ideal if, like me, you're not a massive fan of Christmas cake. The perfectly creamy topping pairs beautifully with the crumbly base – it's nice and rich without the nap-inducing heaviness of a full-on pud.
Gluten free Christmas pudding cheesecake
This recipe can be whipped up the day before a Christmas party and kept in the fridge. Even better, you can cheat by using ready-made biscuits and puds – these were made with Sainsbury's gluten free digestives and free-from Christmas puddings.
Ingredients
For the topping
500g mascarpone cheese
½ pint double cream
½ gluten-free Christmas pudding (or two small ones)
1 tsp vanilla extract
100g caster sugar
For the base
300g gluten-free digestive biscuits
150g butter
Method
Line an 8-inch spring baking tin with greaseproof paper.

Put biscuits in a sandwich bag and crush them into crumbs.

Melt the butter in a small pan and add to the biscuits in a bowl.

Squish the biscuit mixture down in the baking tin, using the back of a spoon and chill in the fridge for 30 minutes.

Meanwhile, whisk the cream, vanilla and sugar until it forms soft peaks. In a separate bowl, soften the mascarpone cheese then add in the cream mixture.

Crumble the Christmas pudding into the cream and mix everything together.

Take your base from the fridge and spoon the topping on nice and thick.

Chill in the fridge for 2 hours. Enjoy!
Let me know if you have any other fabulous twists on old-time festive favourites – I'd love to hear them (so I can share the recipe with my mother for her to bake, obvs). Happy gluten free Christmas!
Love Nina x
---
---