White choc peanut butter cups recipe (better than Reese's)
Give me a gluten-free recipe without fancy ingredients, that requires zero baking skills, and I'll be your BFF for life. And yes – I'm hoping this white chocolate peanut butter cups recipe will make me loads of friends. It's the only reason I'm sharing it.
I can't take credit for the full recipe. It's a spin on Nigella's chocolate peanut butter cups from the Nigella Christmas cookbook. In her own words, making these cups is not a hard job, just a boring one, "and I find once I've accepted that, the mindless, repetitive activity can be positively therapeutic."
Our hectic lives need some mindless action, I think. Especially if such a mindless act results in cups so devilishly alike to the famous Reese's peanut butter globules. Simple, no-bake, quick-to-put-together sweet bites that are perfect for guests, or just popping a couple in your work bag for a show-off snack throughout the week.
Creamy, salty, luxuriously nutty, with gorgeous blobs of white choccy. Come to mama.
A few points to note:
For this recipe I used a bag of Milkybar White Chocolate Buttons which are gluten-free – be aware that the Milky Bar White Chocolate bars are not safe for coeliacs. There's a "may contain gluten" caution on the packaging, which I'm assuming is due to manufacturing methods.
Nigella (naturally) calls for soft real butter in her cups, but dairy-free alternatives work just fine. I've used

Vitalite

in mine and they're just as yum.
If you don't have a mixer or food processor, do not fear. I used a spoon and some old-fashioned elbow grease and it worked just fine. If you do have a mixer or food processor, then good on ya – I desperately envy your appliance collection.
White chocolate peanut butter cups recipe
INGREDIENTS
For the base:
50g soft dark brown sugar
200g icing sugar
50g soft butter (or dairy-free alternative)
200g smooth peanut butter
For the topping:
300g white chocolate (I used Milkybar White Chocolate buttons), or dairy-free alternative
You'll also need around 50 petit-four paper cases to fill with peanutty chocolate joy. If you wanna be dead snazzy, get some pretty stars or sprinkles to decorate the cups with, like Nigella. I'm not that snazzy.
METHOD
In a bowl, mix the brown sugar, icing sugar, butter (or dairy-free alternative) and peanut butter together with a spoon. Try not to eat it from said spoon. Alternatively, whip up a finer, sandier paste using a freestanding mixer or processor.
2. Get your hands in there! Form teaspoon-sized discs to fill the base of your paper cases, pressing down the mixture to form a thick layer at the bottom of each case.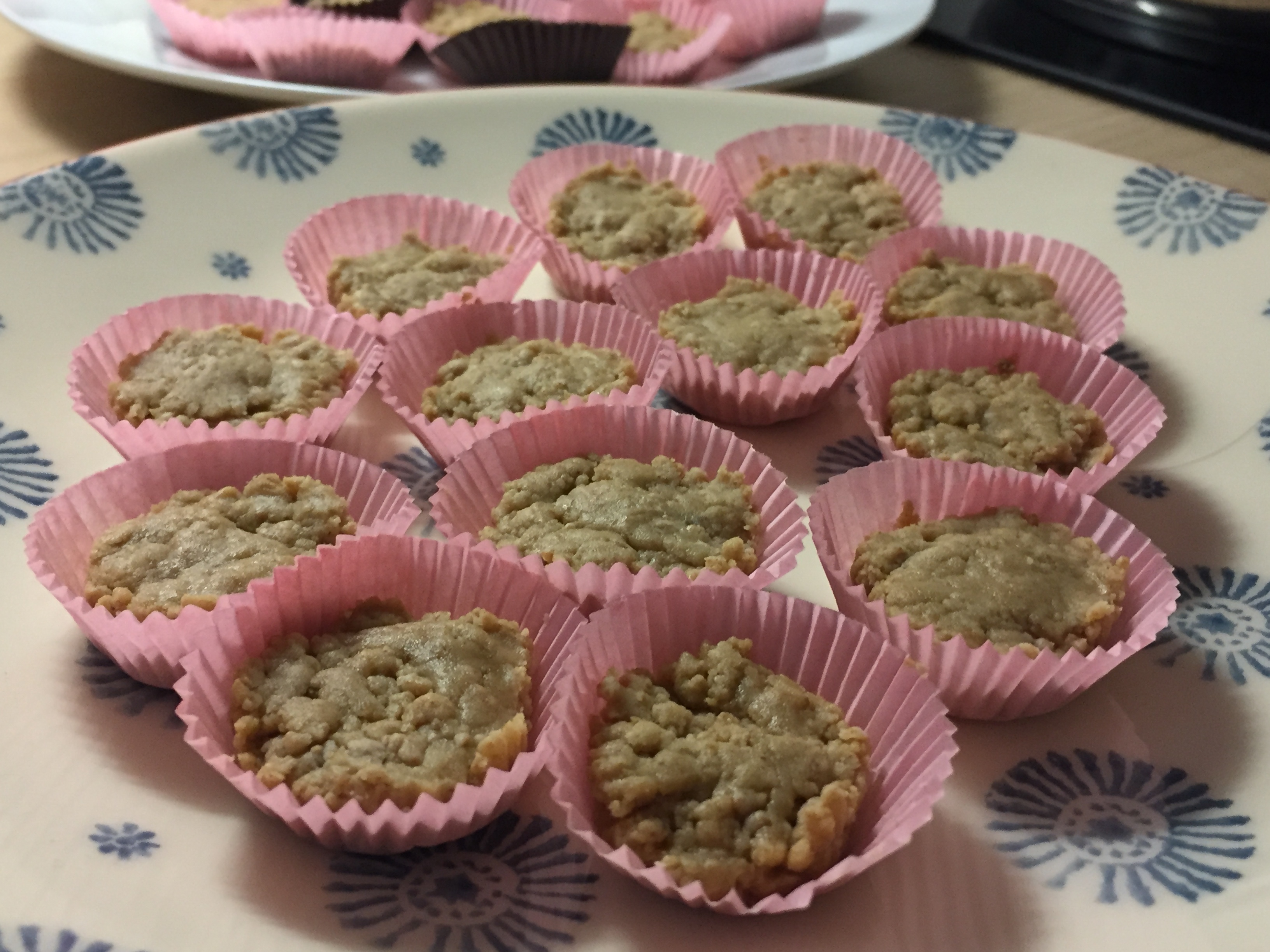 3. Break your white chocolate into a heatproof bowl (or throw your Milkybar buttons in if you're using them), then sit the bowl over a pan of simmering water. Gently stir and allow the chocolate to melt.
4. Let the melted white chocolate cool a little, then spoon one-teaspoonfuls into each case, covering your peanut butter base.
5. If you're decorating your cups, add your stars or sprinkles at this point.
6. Pop in the fridge for about 30 minutes before serving and popping them straight in your mouth.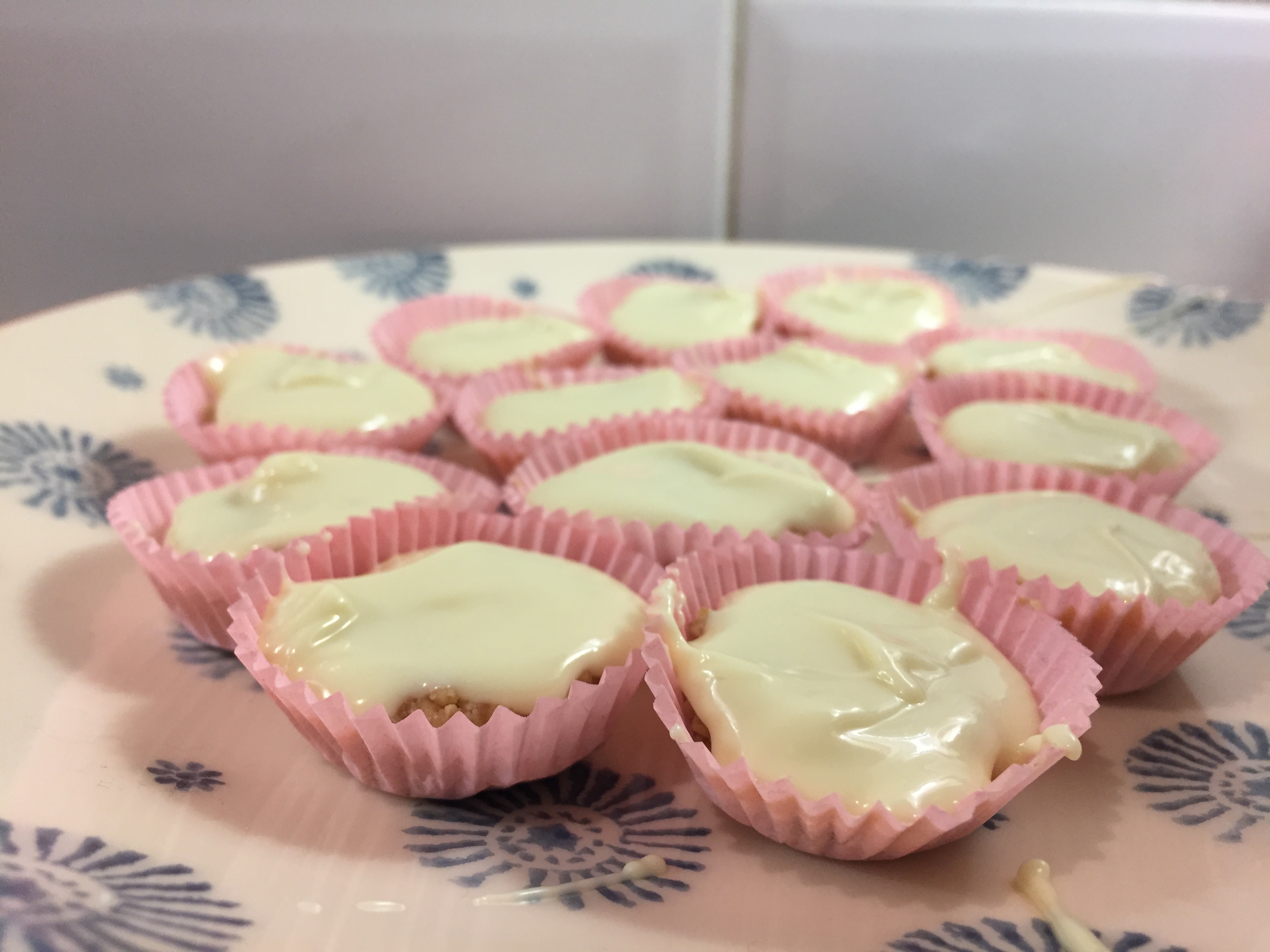 Enjoyed this recipe? Share the PB love on Facebook, Twitter and Instagram 💕
---
---