Gluten-free food on a budget: 11 best supermarkets & the cheapest finds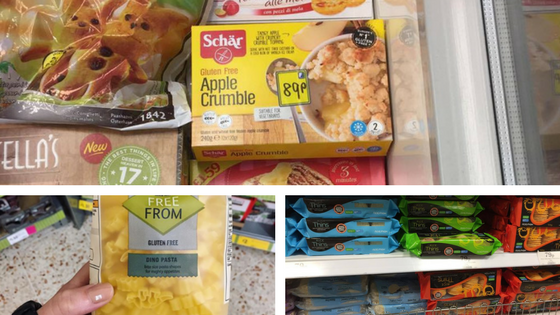 People who buy gluten free food spend £2,000 a year more than your standard supermarket shopper. TWO GRAND. Personally, I think it's more than that. Back when I was gluten, dairy, egg, soy, nightshade and everything else free (a nightmare year of following the 'autoimmune protocol' to try heal my gut – don't recommend it) I was spending up to £20 on a grass-fed bloody chicken at one point.
Granted, that was the extreme side of the scale. Now I'm back enjoying 'normal' gluten free food, though, there's still a hefty difference between numbers when mine and my friends' receipts are spat out at the supermarket.
But eating gluten free food on a budget can be done. Cooking gluten free for kids on a budget can be done. It just means ramping up your savvy power a little bit more than the average Brit, and getting cleverer with your cooking. With that in mind, I've rounded up some cheap gluten free food finds in shops around the UK:
Gluten free @ Home Bargains
It's not the first place you'd think to go for gluten free food in the UK, since most supermarkets have it by the truckload now. But have a root around and you'll find gluten free food half the price you'll usually find it. I remember seeing those gluten free Nutribix in the supermarket for £3-odd, Home Bargains had it for 75p. Daylight robbery! Anyway, here are some of the gluten free gems in there at the moment:
Most supermarkets sell Seabrook crisps in multi-pack bags – one will cost you around £3. Home Bargains do 30 multi-packs – thiiiiirrrrrtyyyyy – for £3.49. I spy one problem with this one though – WHERE IS THE BEEFY? In the background there, the crisp hunters among you may have spotted another gluten free favourite – Pom-Bears. Two for £1.50. Usually a quid for one elsewhere.
More gluten free crisps. I love crisps. These are like those posh thins you find elsewhere for a few quid, only this savvy sanctuary does them for 79p each. Warning: the salt and vinegar ones are addictive. Side note; does vinegar make anyone else's eyebrows sweat? Just me then? Okay.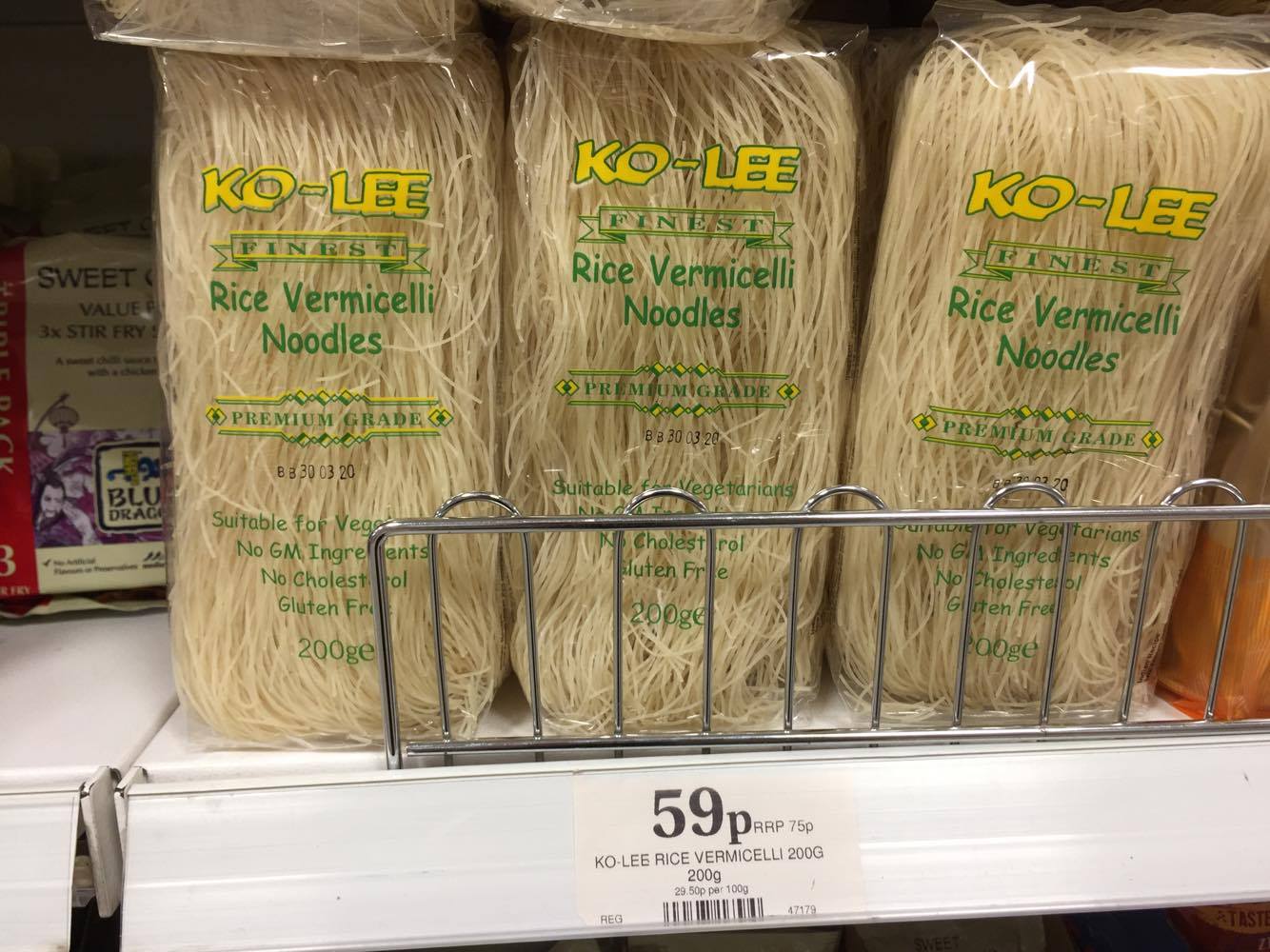 I pay between £1-2 usually for rice noodles – and I go through a lot of them. At 59p, these are half the price of the Amoy branded noodles and are marked gluten free too. Winner.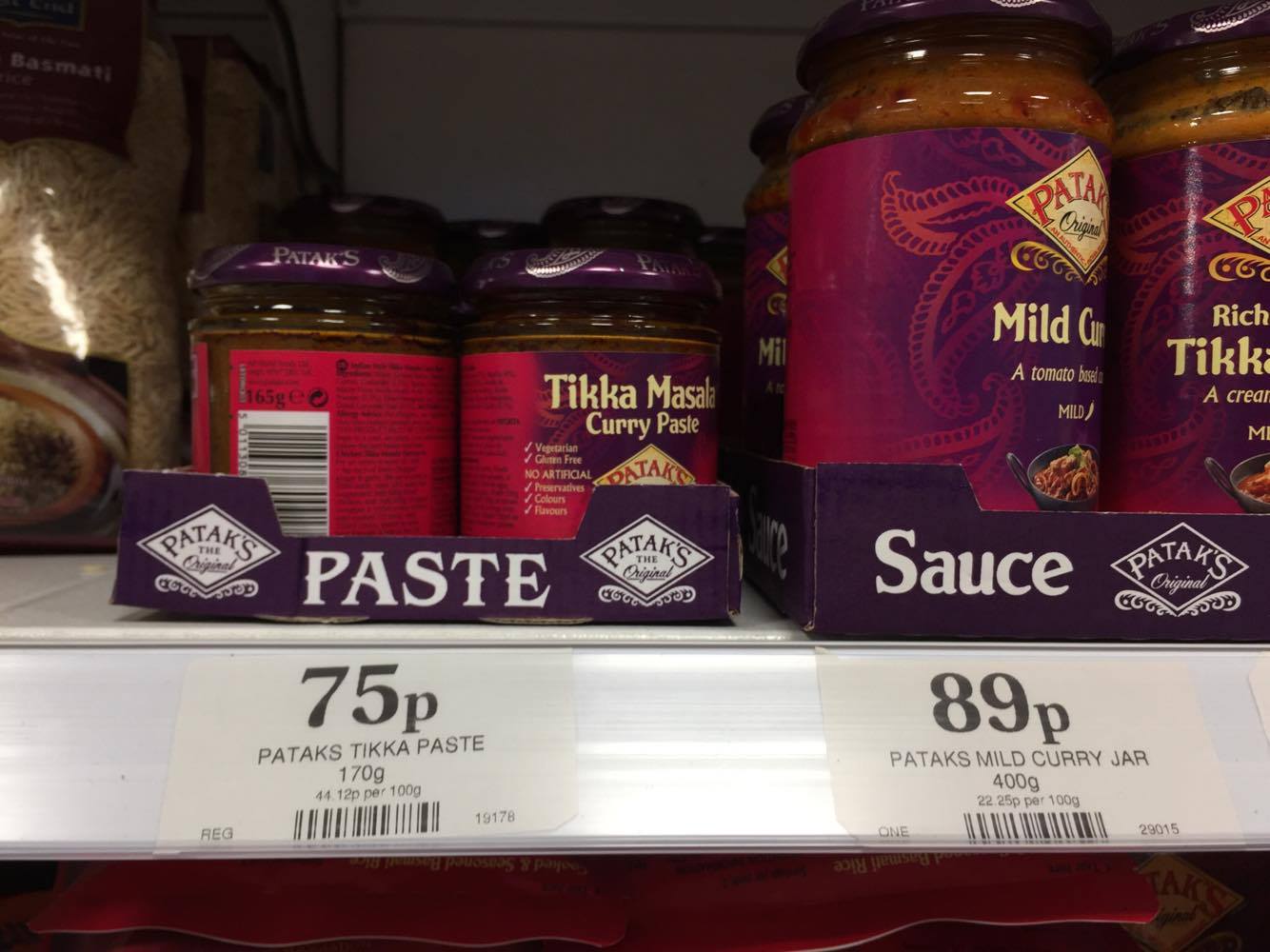 You can get the exact same jar of Patak's curry paste for £2.35 in Waitrose. Here it is for 75p. The curry sauces are gluten free, too.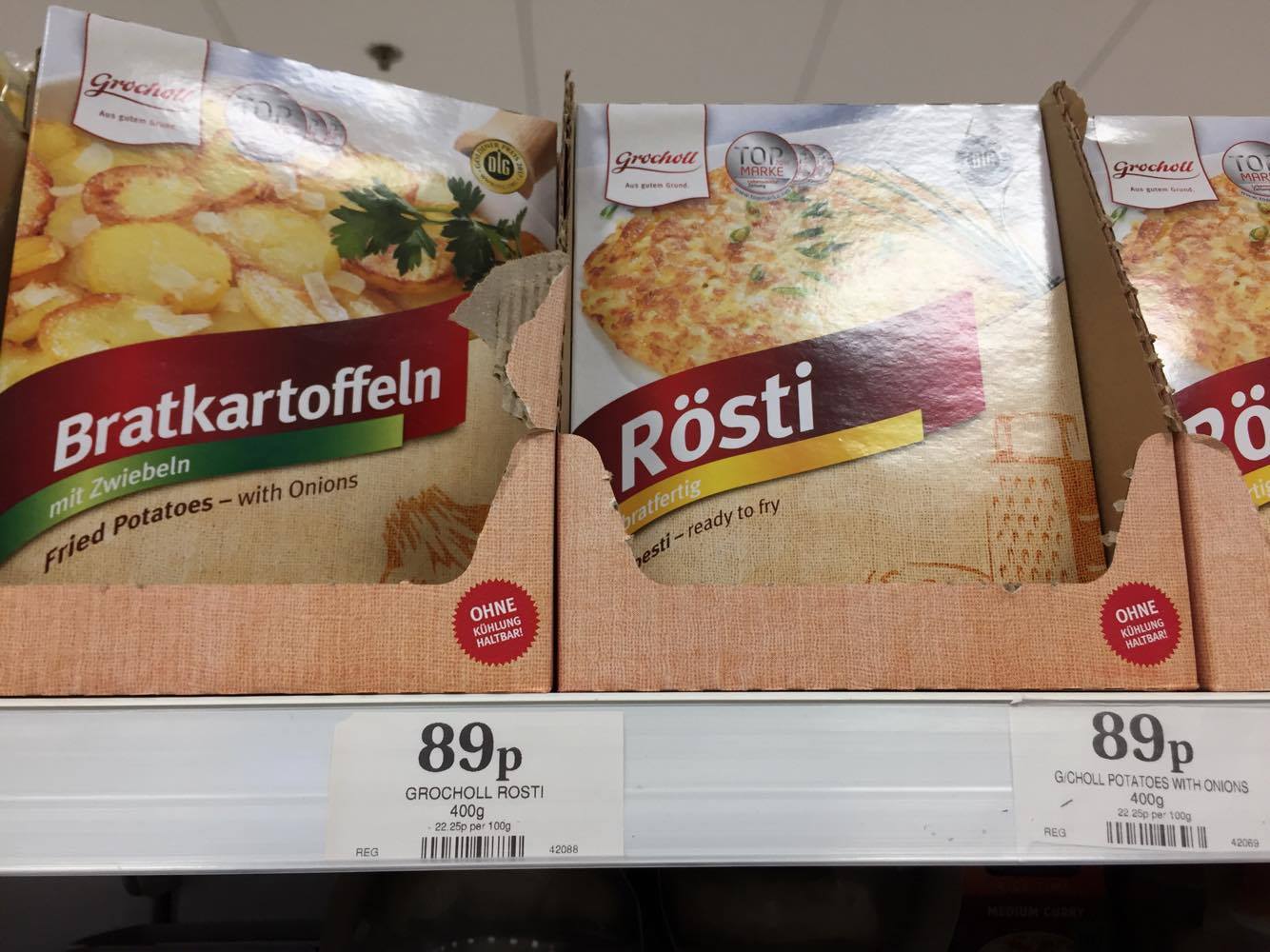 Random find, but these 89p potato rosti things were labelled gluten free, too. £1.19 for something similar in Waitrose (which aren't labelled gluten free).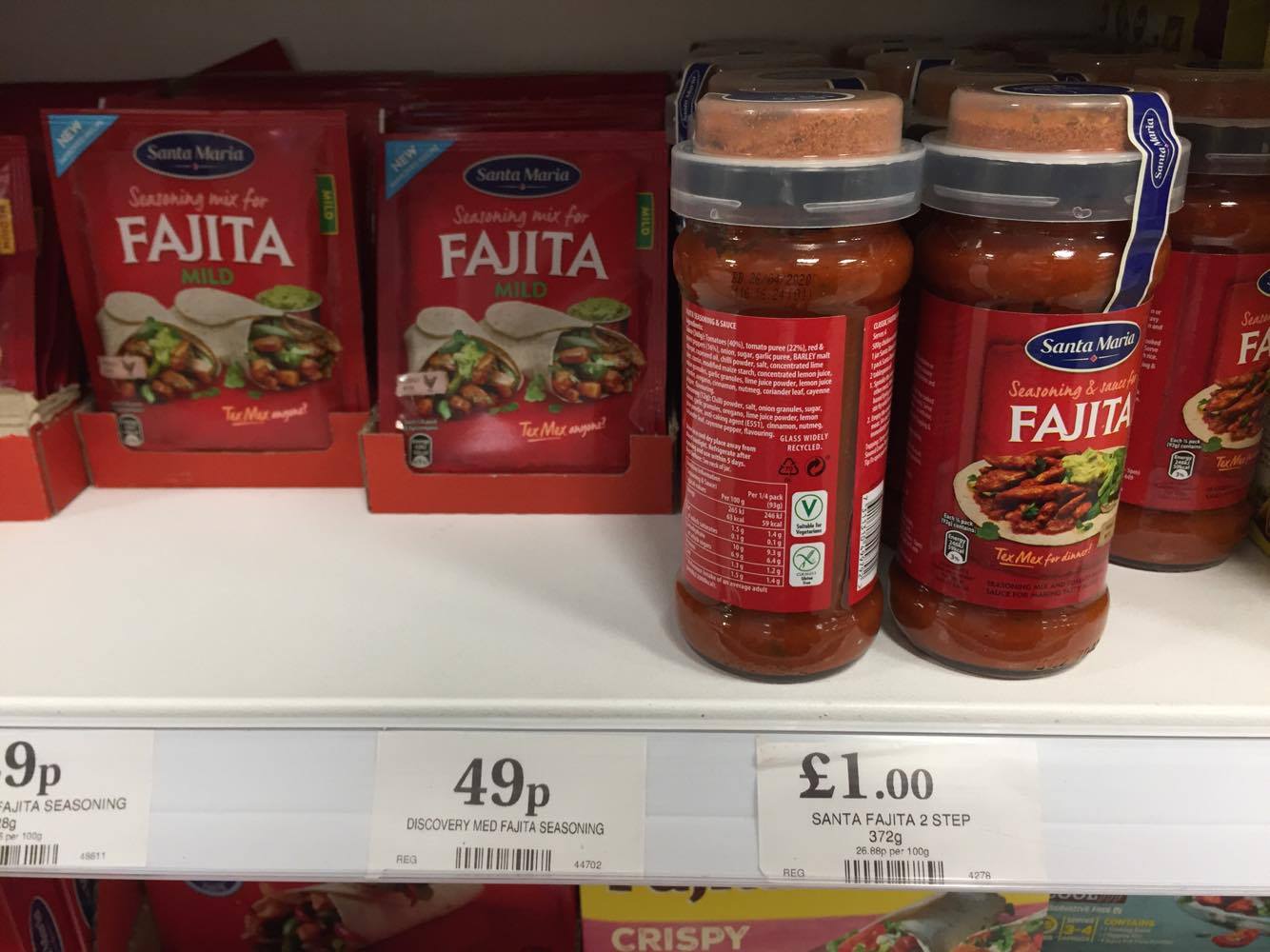 I've only recently discovered how much of this Santa Maria range is certified gluten free – and had myself some damn good Mexican nights since. This is the cheapest I've seen this stuff at – 49p for the seasoning mix!
This is also the place to stock up on your sweetie drawer. BEHOLD: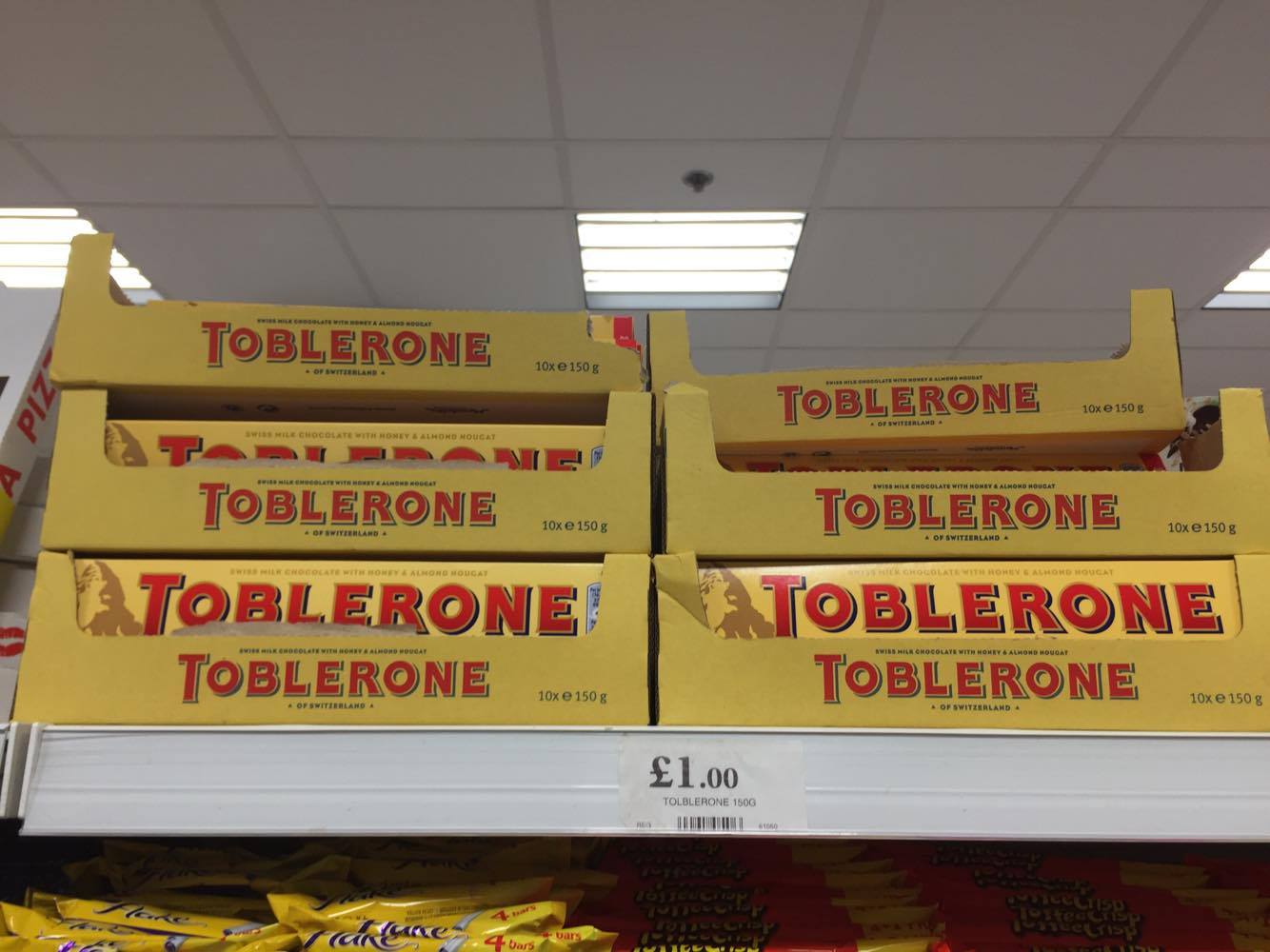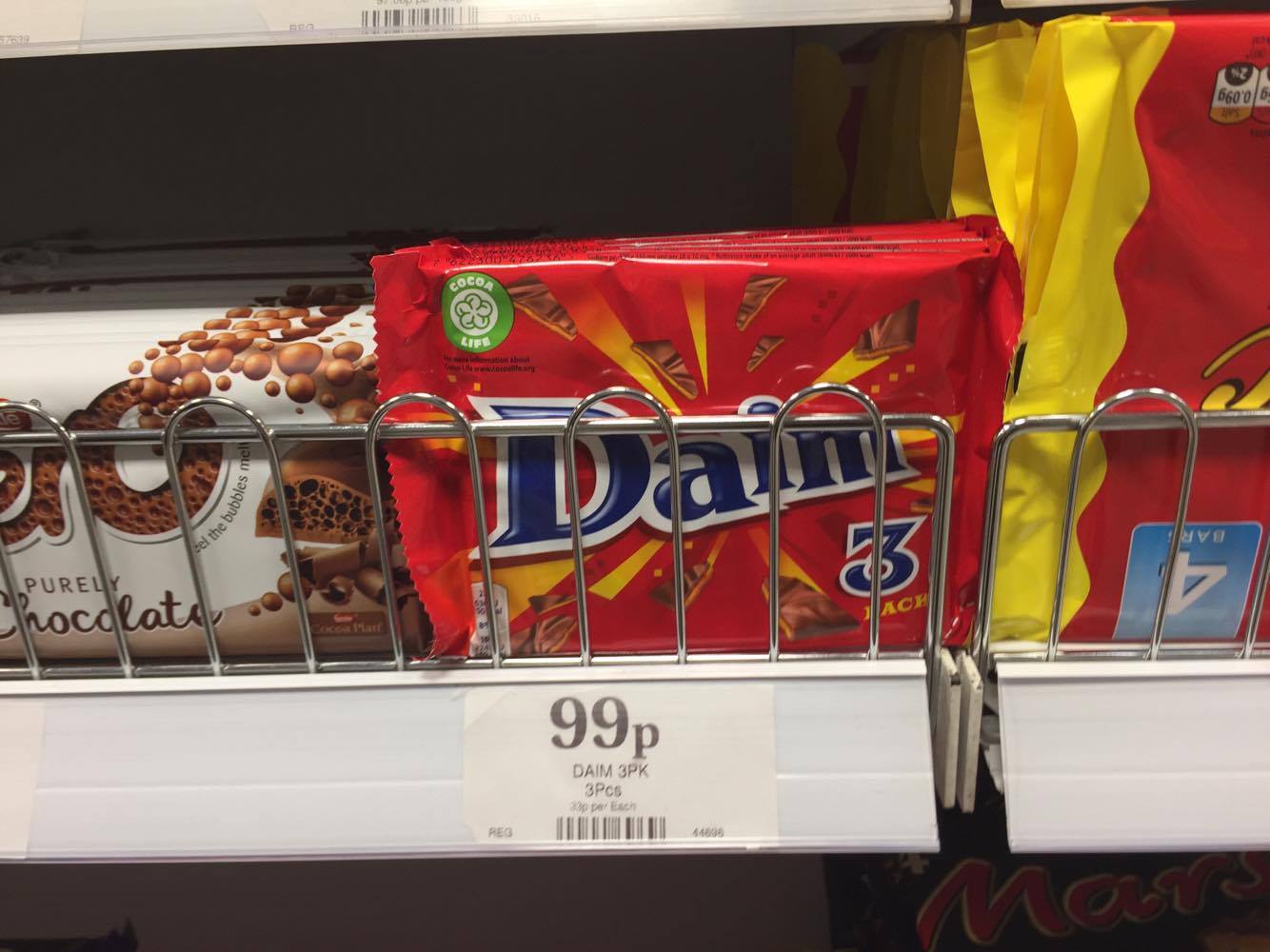 Yup. Daim and Toblerone are both gluten free – at 99p and £1, this is the best place to buy them. Poundland is another wonderful place to snag a good length of Toblerone for much less than the supermarkets.
2. Gluten free @ Fultons Foods
Previously known as Jack Fultons, this old school freezer joint has the odd gluten free food bargain – would you believe it. I actually discovered this place from a woman at the bank: we got talking and she told me she had coeliac disease, too. After discussing how ridiculous some of the prices were for gluten free food, she pointed me to Leeds Kirkgate Market, where our local Fultons is located. Here's what I found: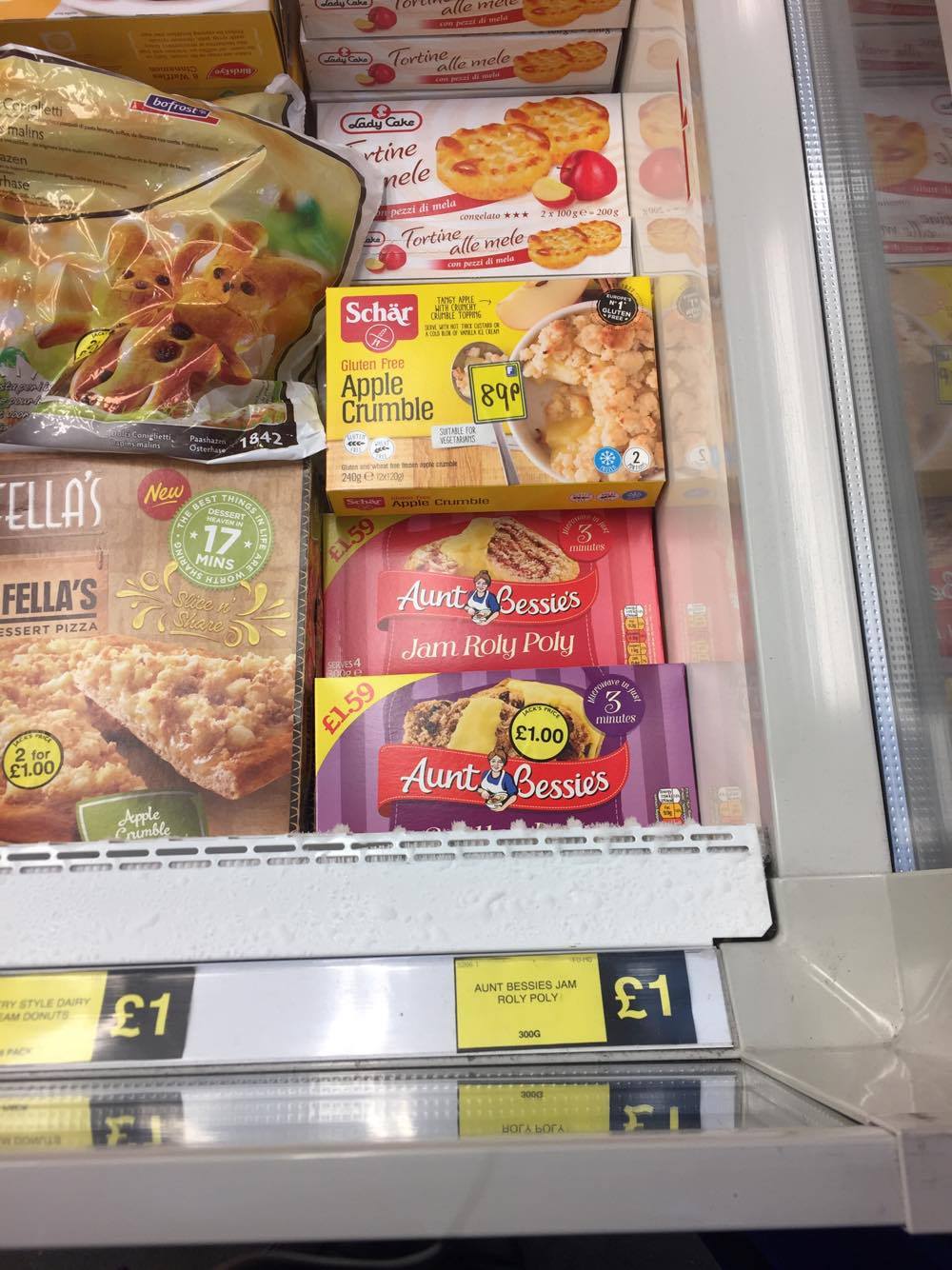 Schar apple crumble for 89p! Wasn't even out of date.
Gluten free fish fingers by Young's – and lovely, chunky, creamy ones at that – for £1. If you're based in the North, there are 100 stores across the regions. Check out your local Fultons and let me know what you find!
3. Gluten free @ Morrisons
Morrisons is one of my favourite places to shop gluten free on a budget. A lot of the stuff is still overpriced, but its own-brand breads, sweet treats, cereals and meats are bang on. Here are my favourite bargains: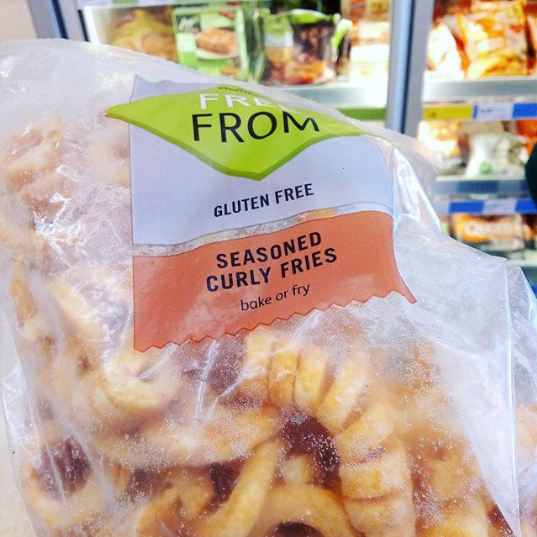 Two words: curly fries. Two more words: ONE POUND.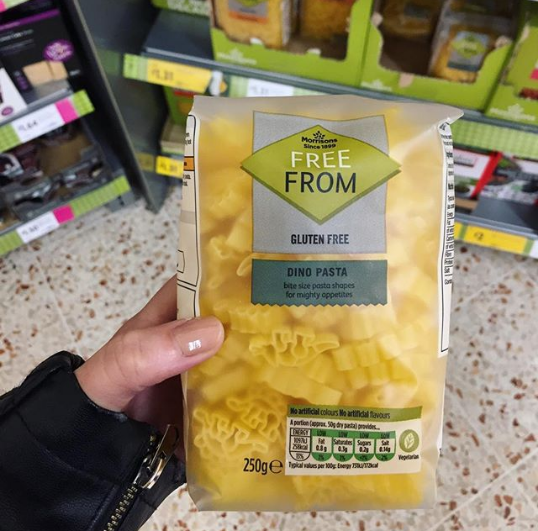 If you're knocking up tea gluten free for kids, these are a no-brainer at 70-odd pence. If you're just a big kid who wants dinosaur pasta, these are also a no-brainer at 70-odd pence.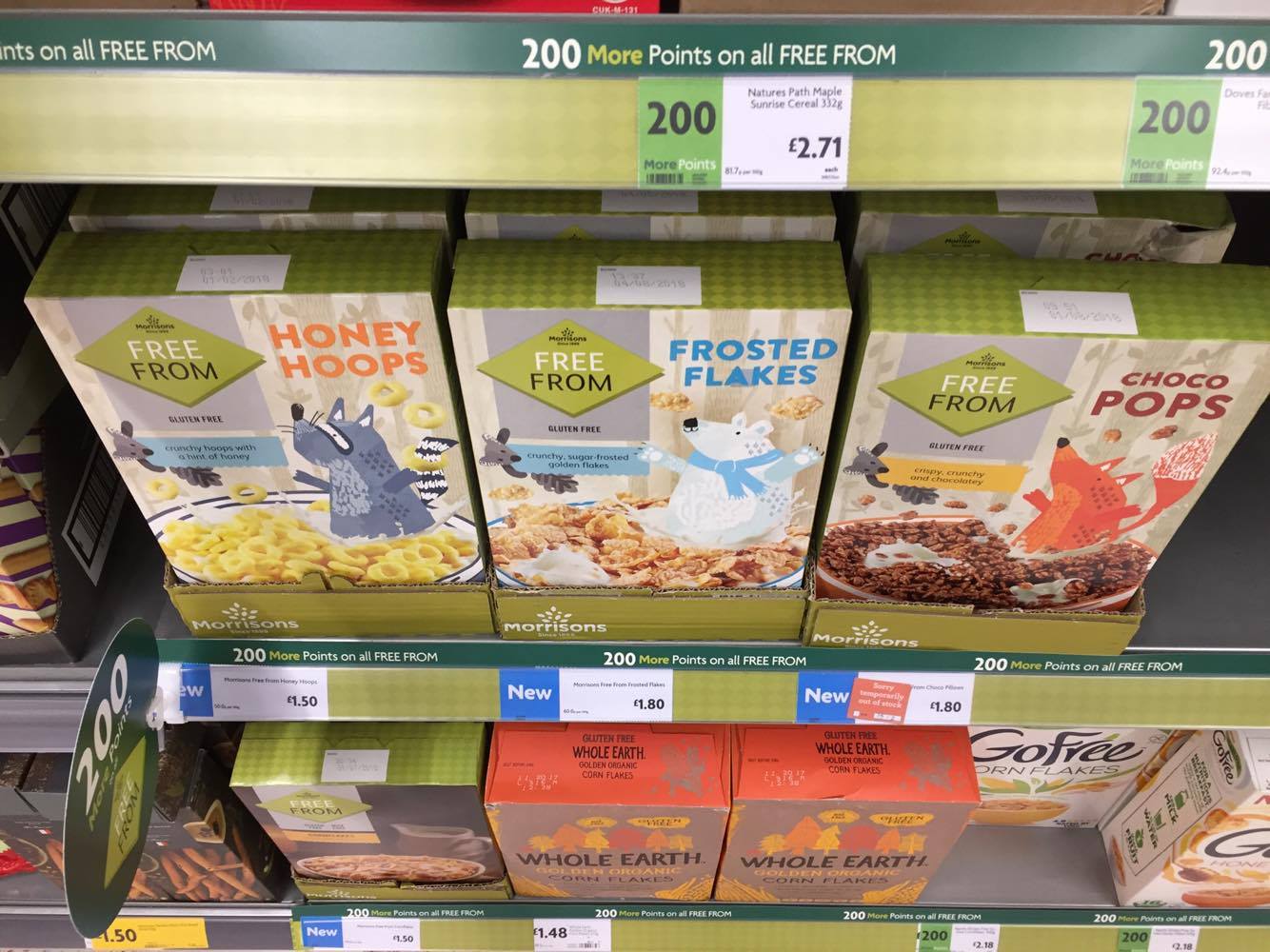 At an average of £1.50, Morrisons cereals are pretty decent with their pricing (unless you're going for Kellogg's, which is eye-wateringly expensive – they're only cornflakes, for crying out loud!).
If it's sweet treats you're hankering for, fill your boots! Granted, these aren't money-saving mind-blowers, but on the grand scale of things they're not massively overpriced.
4. Gluten free @Tesco
It's hit and miss with Tesco. But if you catch its microwave meals when they're on offer you can nab a whole ready meal range of gluten free food for £2.50:
These gluten free ready meals include katsu chicken curry, sweet and sour crispy chicken, chicken-mushroom-bacon pasta, beef and red wine pasta, chicken hotpot, chicken and prawn paella, beef casserole (with DUMPLINGS, phwoar!) and a chicken tikka masala. At the moment, they're all on offer – any two for £5.
By far my favourite thing they sell (which I can't seem to find anywhere else) is Celia lager. It's now only £1.50 a bottle (this is an older photo) and is so crisp and refreshing – a proper Czech! Probably my favourite gluten free lager, actually.
5. Gluten free @ Marks and Spencer
This isn't the go-to store for any one shopping gluten free on a budget, but the M&S gluten free list is extensive and the to-go sandwiches are the best out there. Your best bet? Those yellow stickers. There's usually always something about to go out of date that you can bung in your basket.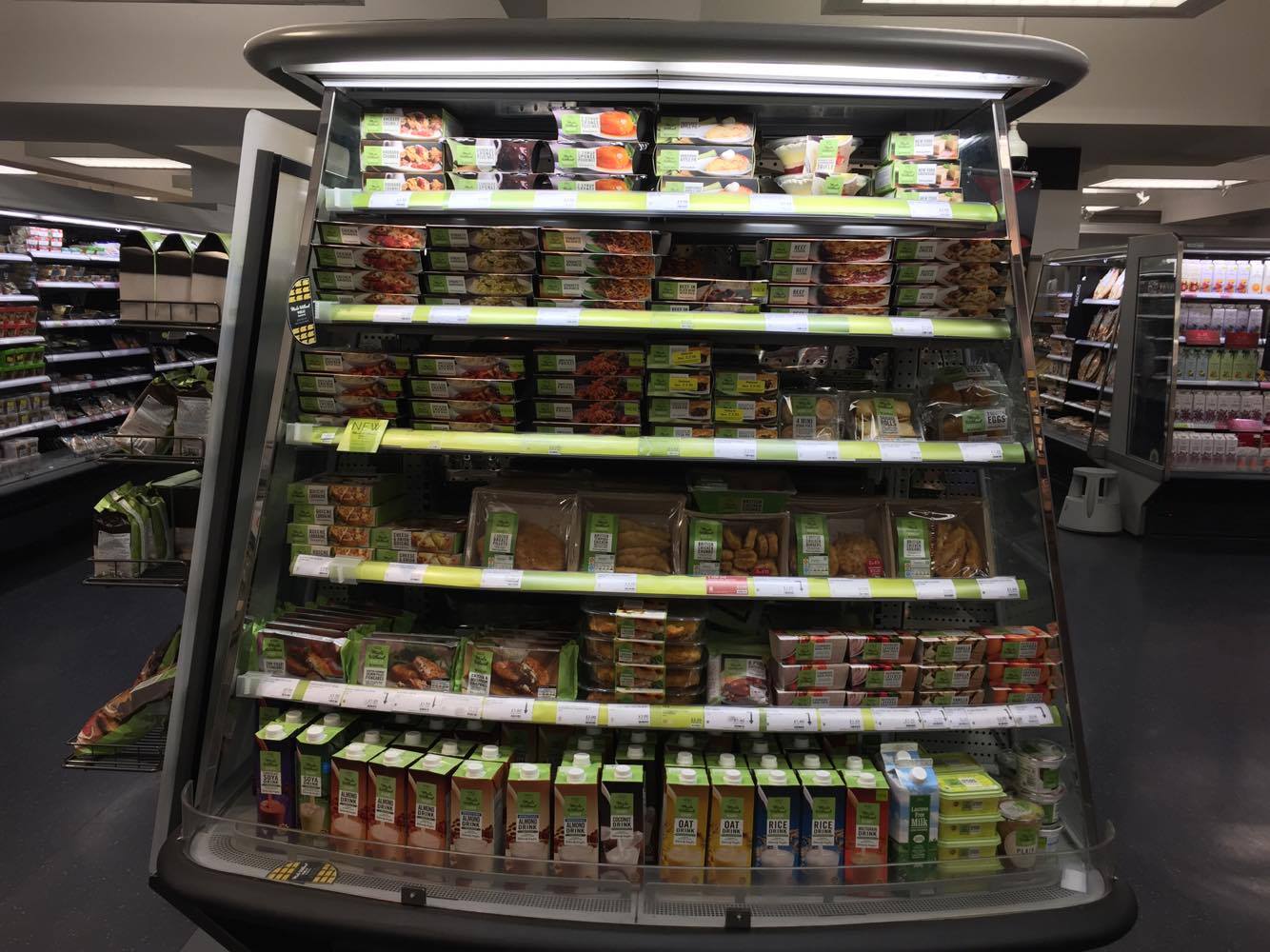 Plus, there's one red hot deal that makes gluten free M&S food fabulous for a savvy date night in the house: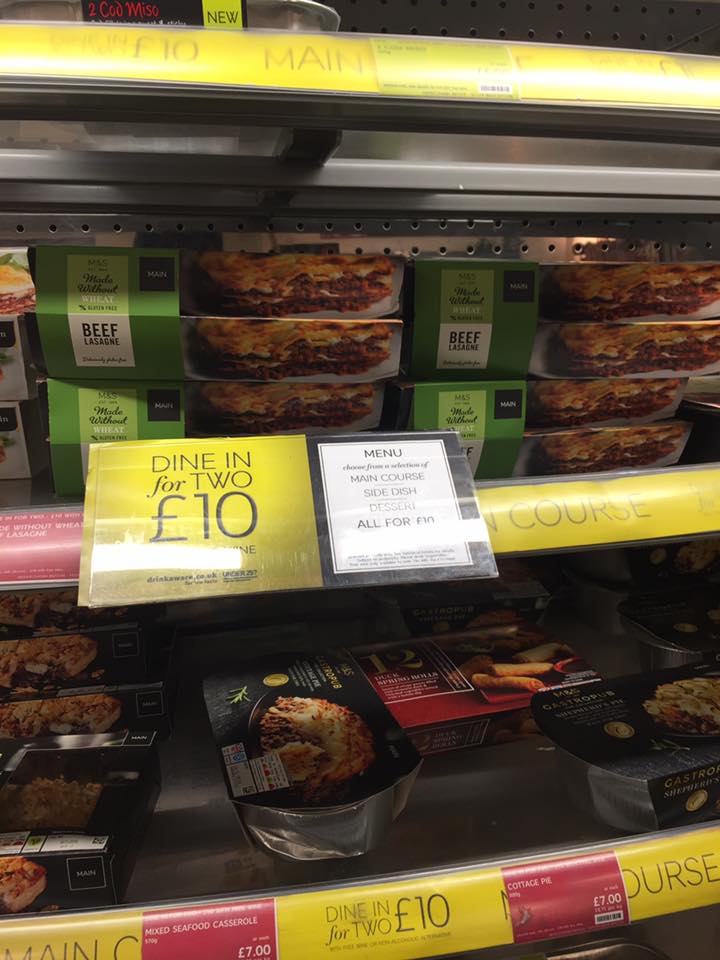 It used to be easy before all the gluten dodging, but – what, wait? Marksys do gluten free food on the two-dine-for-a-tenner deal?! YEAH BABY. Two main courses, two sides, two desserts, one bottle of wine. Fill your basket with gluten free lasagne, veg of your choice, cheesecake and a lovely bit of plonk for 10 English pounds.
6. Gluten free @ Iceland
Shopping gluten free for kids? Grab a bag of Birdseye Alphabites for £1.50. Big gluten free logo smacked on the packaging – brilliant, right? Also, check out this absolute bargain for family movie night: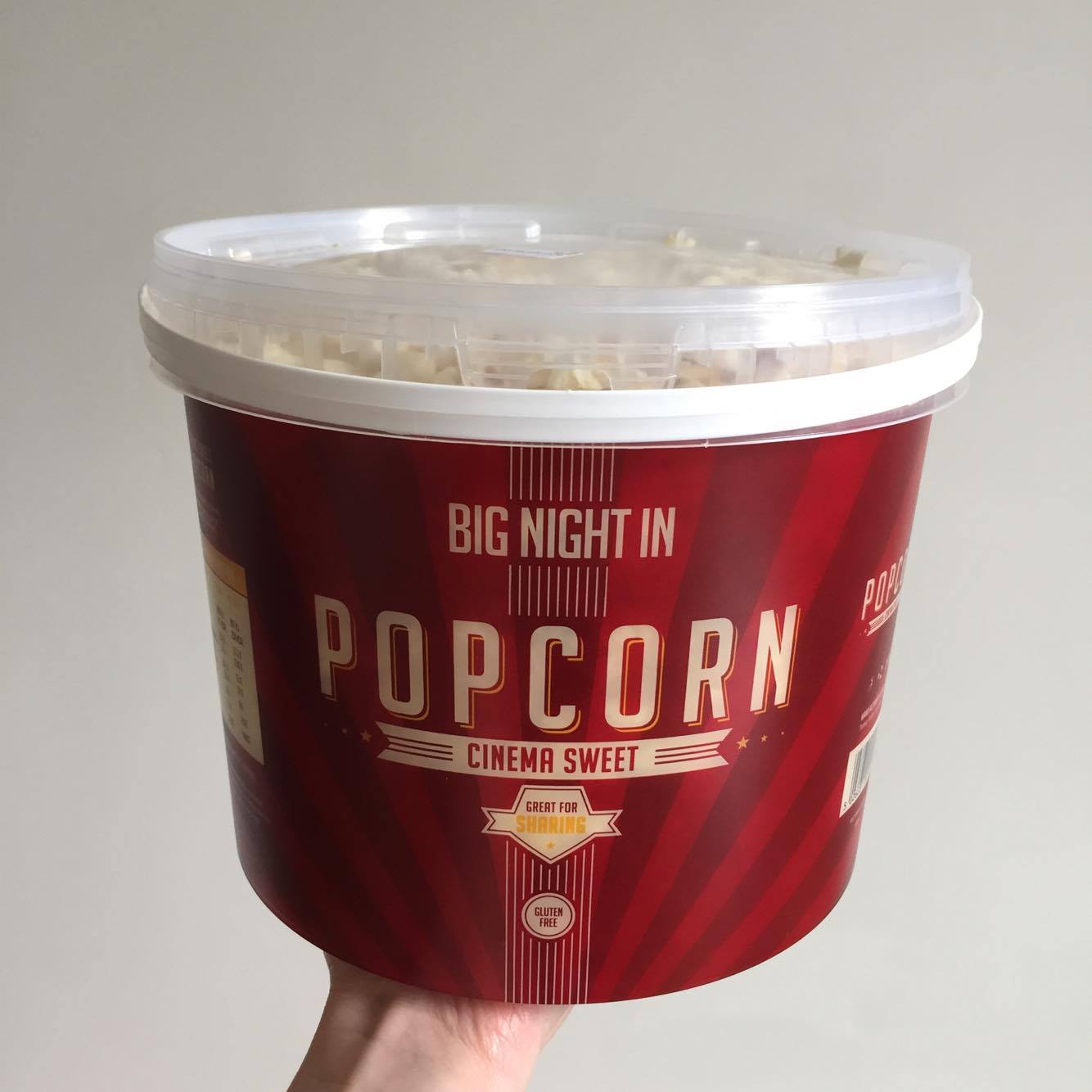 It's a monster! And only £1.75.
7. Gluten free @ Boots
At a time when free from foods can be three times the amount as standard food, the Boots meal deal is the hero we all need right now:
There's any amount of combinations to be had, which I've written about in my Boots gluten free food guide. Sushi, sandwiches, even chicken pasta salad! Grab the most expensive snack and a fancy drink (mines a Purdey's) and you'll snaffle it all for £3.19.
8. Aldi
This place stock loads of Ilumi ready meal dishes such as curries and soups, along with a wide range of gluten free biscuits, flours, puddings, cereals and snacks you probably won't find anywhere else – and mostly around a quid each. They even do a gluten free whitebait in the freezer sections, as well as big fat gluten free bratwurst! They also do a gorgeous Swedish cider for £1.49 – Älska – which has 'suitable for coeliacs and vegans' written on the label. Magic.
9. Gluten free @ Lidl
Unless you've been hiding under a rock, you'll have realised Lidl recently hosted a gluten free week. Everything from gluten free Hob Nobs (£1.49) to my favourite Lovemore Apple Pies were on offer. There were even Goodfellas gluten free pizzas in the freezer for £2.49. After the frenzy of free from shoppers, here's hoping this will become a permanent fixture in the future.
10. Gluten free @ Asda
Go to one of the huge Asda superstores and you'll be blown away by the selection of gluten free food on display. Here are some good-value offers I've spied:
The cereal isn't priced outrageously, unlike lots of gluten free alternatives. We're talking an average of £1.80.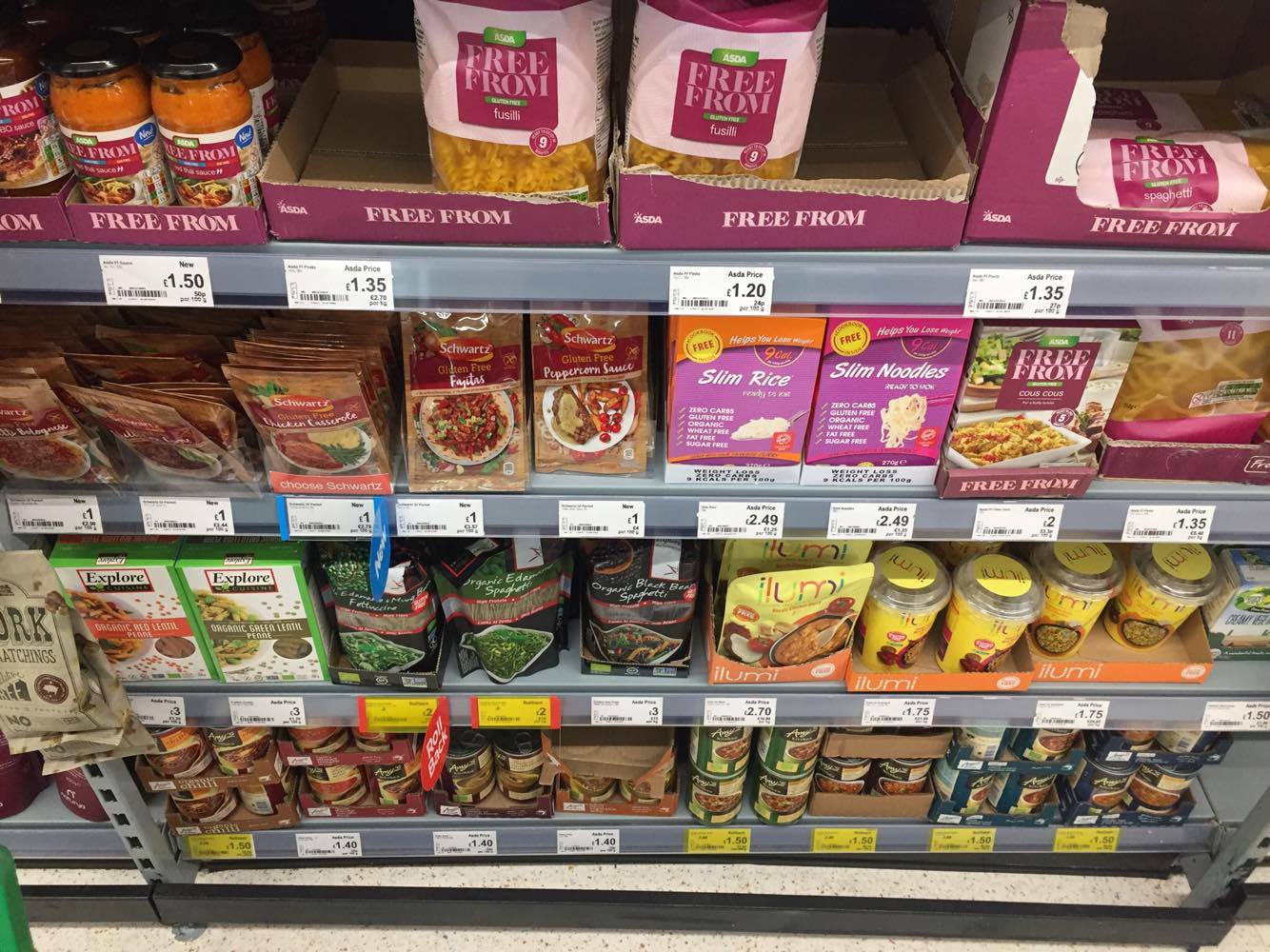 The supermarket also sell Schwartz gluten free seasoning mixes for £1 – which is cheaper than Morrisons, for example.
11. Gluten free @ Sainsbury's
Again, not the cheapest on the block, but if you find a good yellow ticket you're laughing: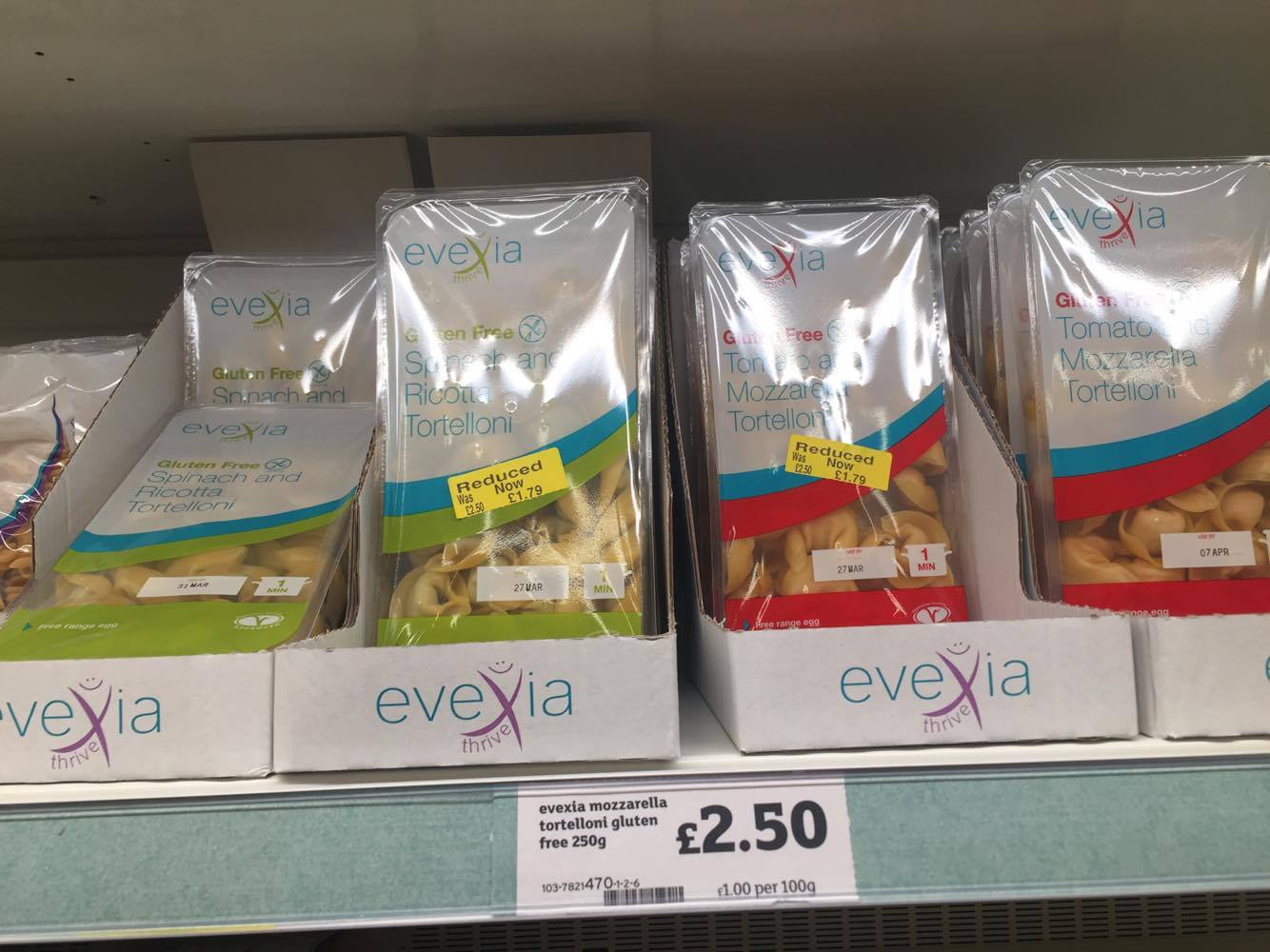 When I was diagnosed with coeliac disease, my final 'normal' meal was spinach and ricotta tortelloni, because I thought I'd never be able to find a gluten free version unless I made it myself. ALAS, the magnificent Evexia released it a few years later. And here it is – worth every penny, but even better when its reduced. You don't really even need to buy sauce either, they're so tasty all they need is a glug of extra virgin olive oil.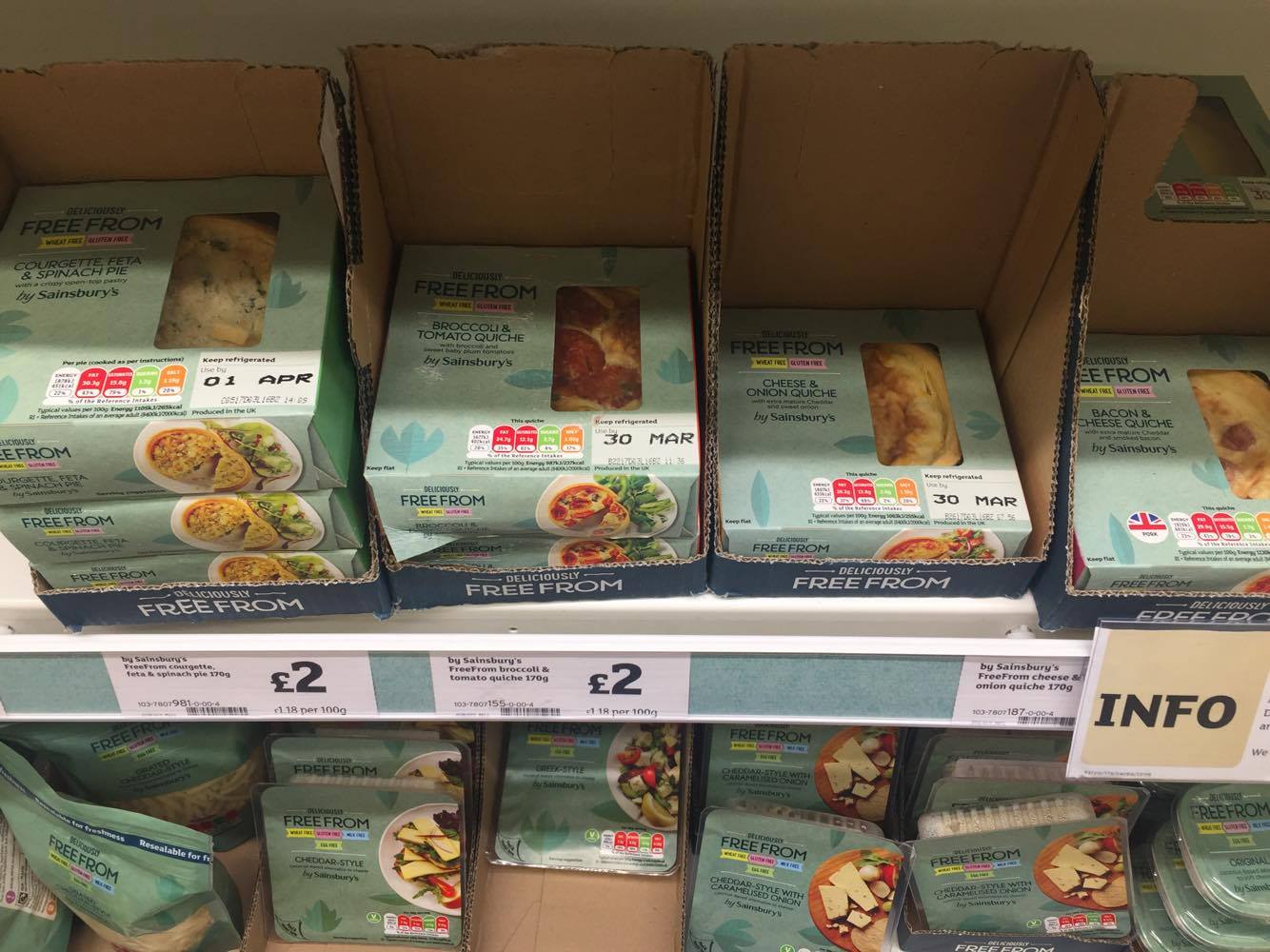 I absolutely love Sainsburys selection of free from foods – they're especially good for gluten free and dairy free eaters. There's even a dairy free blue cheese! The quiches are £2 and make for a lovely quick lunch or tea with a bit of salad.
Have I missed any fabulously cheap gluten free finds? Do let me know in the comments below, or on my Facebook, Instagram or Twitter, and I'll share! Thanks for reading and happy bargain hunting 🙂
---
---