58 gluten free gift ideas: UK Christmas guide 2020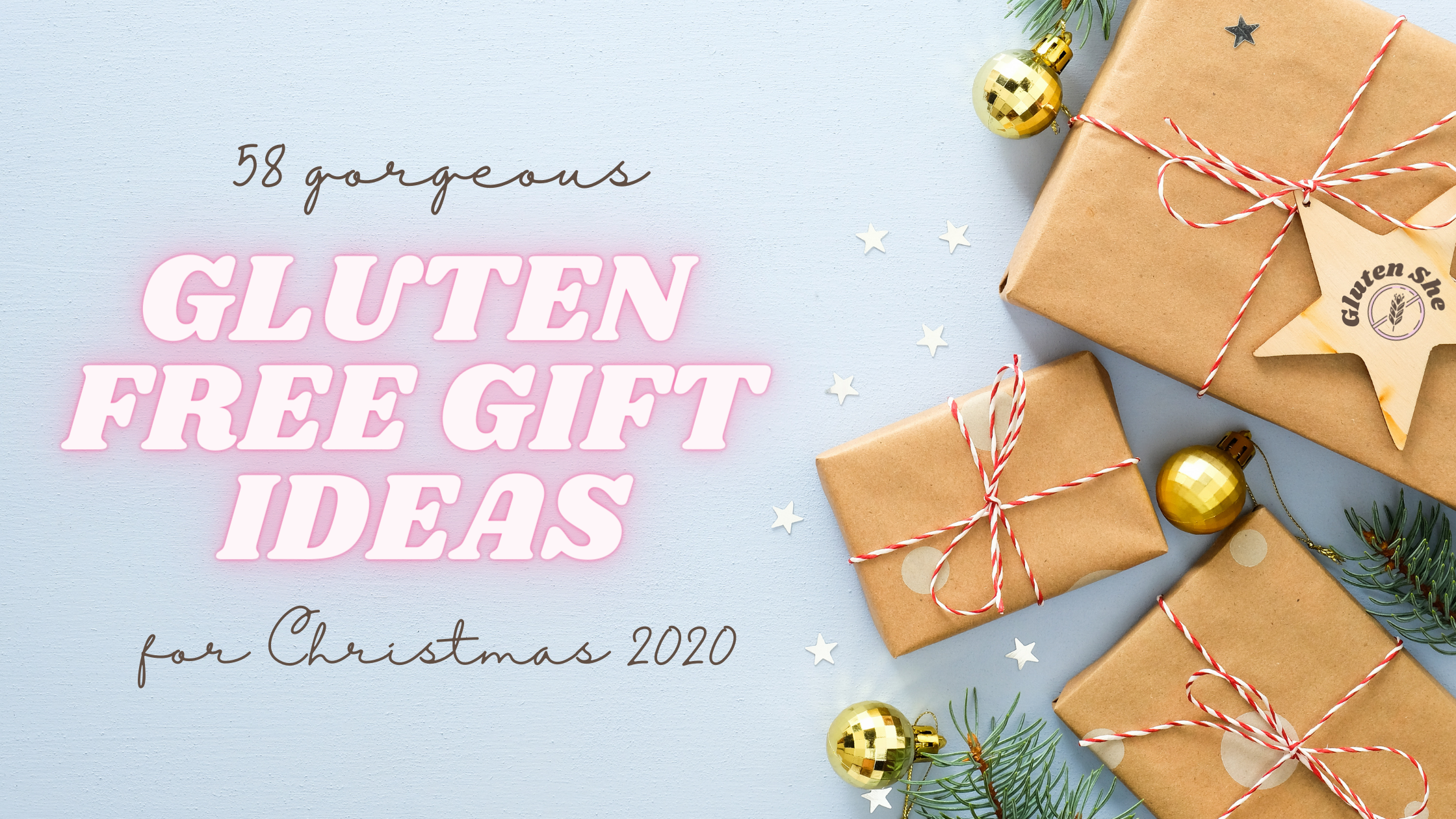 Gluten free gifts tend to be trickier to buy than the rest. Sometimes it's safer to plump for candles and Lynx gifts sets and be done, right? Welcome to our world!
Fortunately, I've pulled together gluten free gift ideas UK recipients will be over the moon with (and not under the weather with!). Most of these are from small, independent businesses, but I have included links to household names (particularly in the gluten free chocolate section).
Without going full-on sentimental (who am I kidding, 2020 has been an EMOTIONAL ROLLERCOASTER), I do believe this season is going to be more about presence than presents (how it should always be).
But, if you can't see your friends and family, or you can and you wanna spoil them rotten, orrrr you want to send gluten free gifts by post instead of in-person, this list will put huge smiles on your loved one's or workmates (or workmates you love) faces.
Happy gluten free gift hunting!
GLUTEN FREE GIFTS: TABLE OF CONTENTS
Gluten free gifts by post
Vegan gluten free gifts
Gluten free alcohol gifts
Gluten free non-alcoholic gifts
Gluten free funny gifts
Gluten free chocolate gifts
Gluten free sweets & stocking fillers
Gluten free Christmas gift recipes books
Gluten free gifts for children
Gluten free gifts by post
1. Gluten free kitchenware
What do you get the coeliac in the family for Christmas?
The Gluten Free Gift Co is a super-small business (and by small I mean, it's just my Mam & I). Working with local tradespeople in the north-east of England, we've created dedicated gluten free rolling pins, plates, mugs, coasters & chopping boards.
After years of sharing a kitchen, I know the pain of house members using your baking/cooking stuff! Tiny scratches in chopping boards, rolling pins and other sticky baking utensils can harbour microscopic bits of gluten – so you need your own. These ones say HANDS OFF to the gluten-eaters!
Buy this gluten free rolling pin:
https://www.etsy.com/uk/listing/759504389/gluten-free-rolling-pin-beech-engraved
Buy this gluten free mug:
https://www.etsy.com/uk/listing/745642646/gluten-free-mug-coeliac-gift-boxed
Buy this gluten free dinner plate: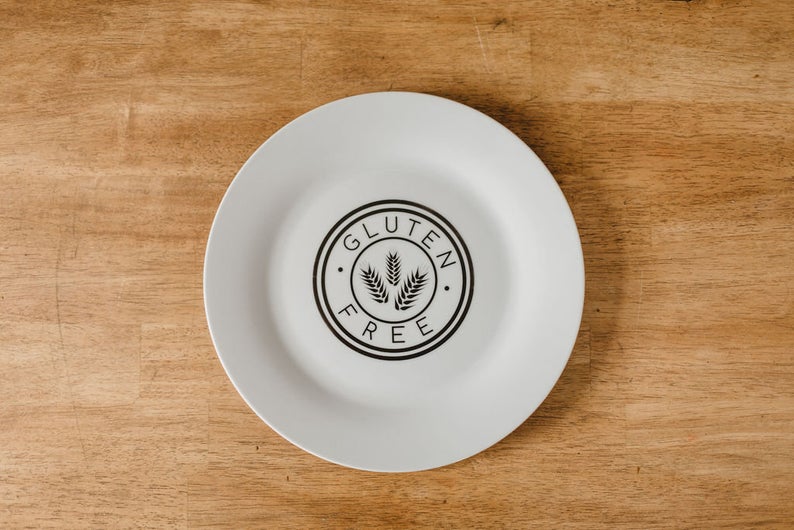 https://www.etsy.com/uk/listing/745654344/gluten-free-dinner-plate-ceramic-coeliac
2. 100% gluten free cake subscription
Seriously, it doesn't get any better than coeliac-safe cake through your door. Liverpool-based Natasha at The Gildergreen offers 3, 6 or 12 month cake subscriptions, which make THE perfect presents.
All details are on her website, as well as Christmas bakes which can be packaged up as gifts & scheduled to deliver fresh closer to Christmas for your lucky recipient (or you, I've already bought a box for Yours Truly). Think Christmas cakes (big ones and mini ones), gingerbread men, seasonal brownies and cookies – Natasha's festive market stall, straight to your door.
Buy this gluten free gift: https://thegildergreen.co.uk/shop/ols/categories/christmas-bakes

3. Bloat-friendly skinny jeans (with a heat-pack pocket!)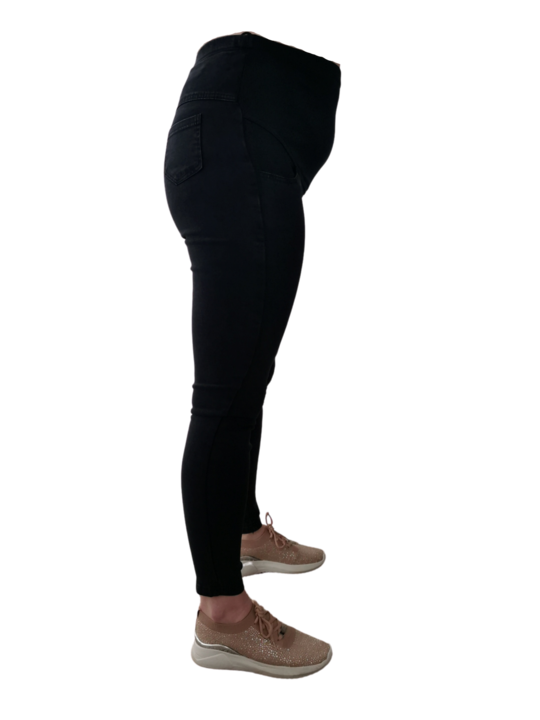 These jeans from I'm Fine Attire are the world's first and the loveliest gift for friends or family with chronic illnesses such as coeliac disease, endometriosis, pcos, adenomyosis, or anyone who wants relief from period pain or IBS. They include an adjustable waistband and stretchy material (perfect for flare-ups or glutening incidences) and the secret weapon – the Heat Pack Pocket™.
Buy this gluten-free gift: https://imfineattire.com/products/black-skinny-jean-with-heat-pack-pocket
4. Box of luxury handcrafted gluten free macarons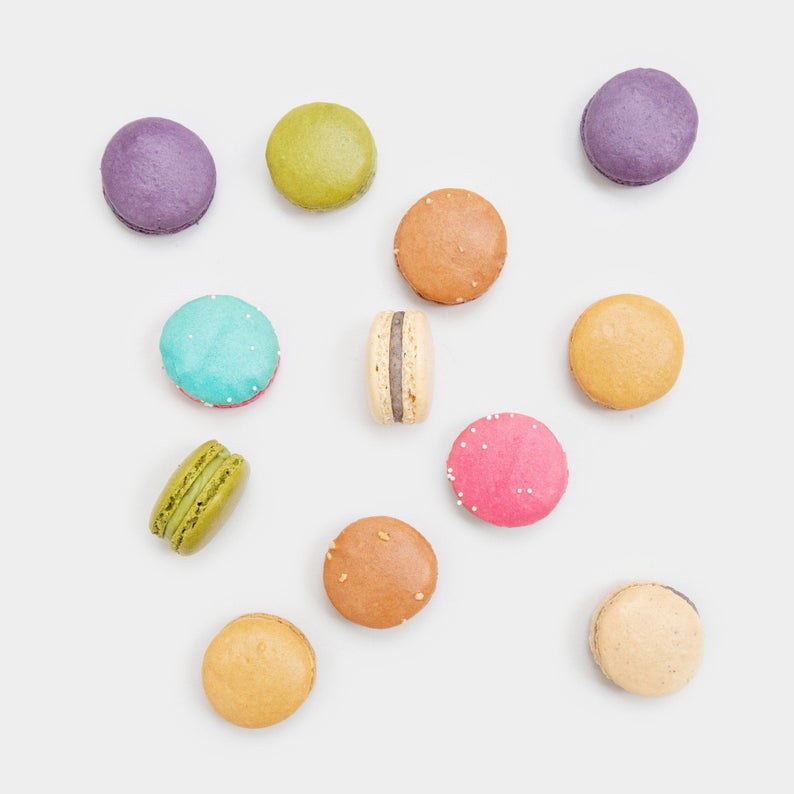 Are these not the prettiest little bits of gorgeousness you've ever seen? This Nottingham-based patisserie specialises in gluten free macarons made to a traditional french recipe. Flavours include classics such as vanilla, chocolate, lemon, strawberry and raspberry, with the likes of pistachio, rose, forest fruits, cookie dough, bubblegum & salted caramel.
Buy this gluten free gift: https://www.etsy.com/uk/shop/MacaronMarlo

4. Breadmaker with gluten-free programme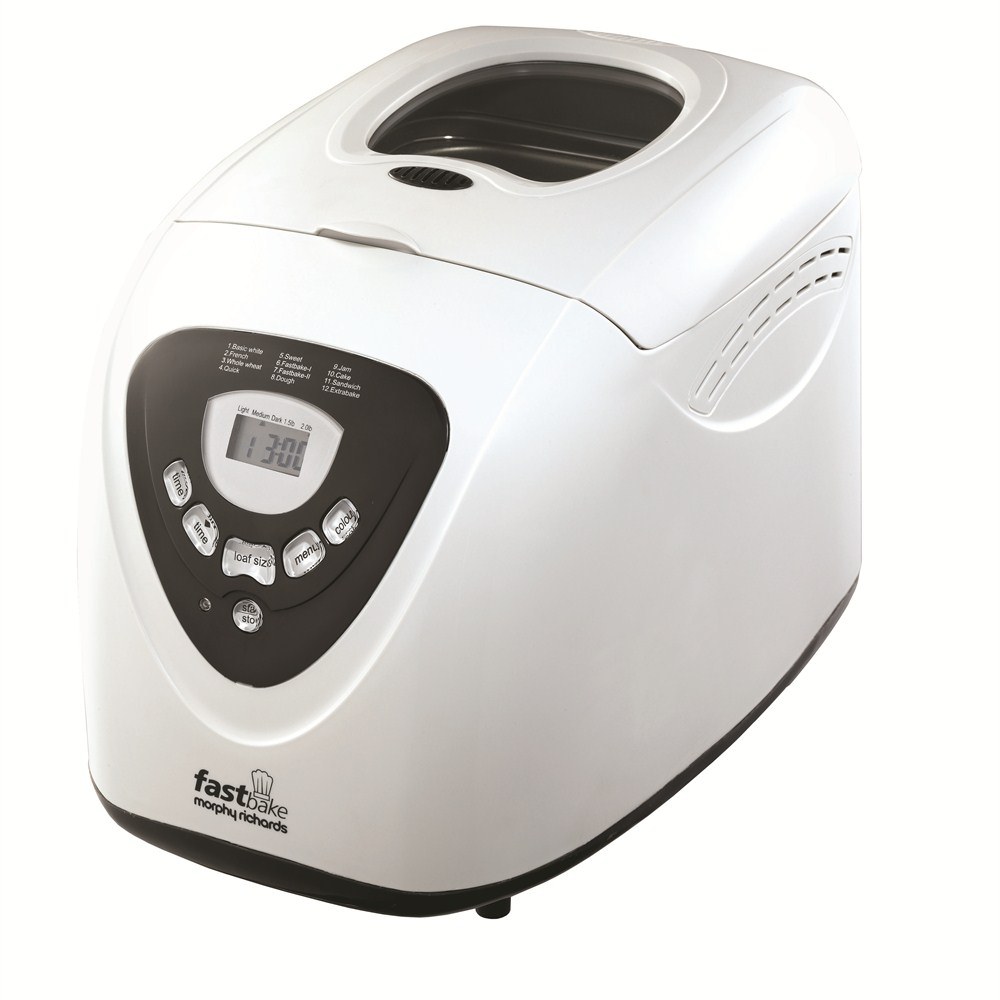 Where gluten free gifts are concerned, a breadmaker has been my most-appreciated one yet. My Mam got me this Morphy Richards Fastbake Breadmaker a couple of Christmasses ago and it makes the loveliest loaves! It comes with a little recipe book with two gluten-free bread recipes to get you started. You can even delay baking for up to 13 hours – and I don't think there's any better gift than the waking up to the smell of fresh gluten free bread in the morning.
Buy this gluten free gift: https://www.morphyrichards.co.uk/shop-now/cooking-appliances/48281-Multi-use-Fastbake-Breadmaker.html
5. The BEST gluten free fudge from York's Fudge Kitchen
My best mate sent me the best gluten free gift ever at the start of lockdown… a glorious box of handmade fudge from Fudge Kitchen. I've never tasted anything like it! Honestly, I'm not waxing lyrical… it's melt-in-your-mouth, swoonworthy fudge in all kinds of luxurious flavours. And it's all gluten free unless stated otherwise, with loads of vegan options. Build a box yourself or order a Christmas selection box of whipping cream fudge (gluten free). The best thing about them is they're freezable, so you can take bits out of the freezer when you fancy a bit (if you don't eat them straight away!). To get them fresh for the 25th, select the date for dispatch between the 16th-21st of December. Whew! I've got to leave their site now I am drooooooling…
Buy this gluten free gift: https://fudgekitchen.co.uk/en/products/christmas-selection-whipping-cream-fudge
6. Festive gluten free gift hamper
I love a good hamper! You can always put your own together, but if you want handpicked luxury and ease, The British Hamper Company have a gorgeous array of gluten free gifts, all in one bespoke package. There's Worcester Sauce crisps from Yorkshire (Y-U-M), handmade iced Christmas cake from Shropshire, traditional fruity cranberry sauce from the Lake District, and plenty more.
Buy this gluten free gift: https://www.britishhamper.com/uk/theme/christmas-food-hampers/the-gluten-free-festive-hamper
7. Coeliac UK Food & Drink Guide
This is the MOST useful gluten free gift, especially for newly diagnosed coeliacs living in the UK. In it – 20,000 products that are safe for people following a gluten-free diet. It was my bible when I first started navigating the free-from aisles in the supermarkets. If your gift recipient is a member of Coeliac UK, they'll already have a directory as part of their membership. But if no, you can still order a 2020 copy (I assume a 2021 version will be coming too but I can't see it on the site yet).
Buy this gluten free gift: https://www.coeliac.org.uk/shop/products/181127/
Vegan gluten free gifts
Whether your recipient is dairy intolerant or following a diet free of animal products, these vegan gluten free gifts are thoughtful AF.
8. Personalised vegan gluten free sugar cookies
Biscuit Bunny Bakes are The Actual Cutest! Creating edible messages to surprise friends and family, these gorgeous soft sugar cookies are vegan and gluten free. From personalised gingerbread people to traditional biscuits, choose from boxes of 4, 8 12 & 16, pick your message & then your flavour. Vanilla, lemon, almond, orange or caramel? Decisions!
Buy this gluten free gift: https://www.etsy.com/uk/listing/899105843/personalised-traditional-christmas
9. Vegan gluten free luxury brunch + Xmas boxes
Treat your fave free-from friend or family member to healthy pancake stacks, homemade pecan granola, breakfast bites, fresh fruit and loads of other luxury brunch bits, all delivered in a gorgeous jute bag. The Naked Foodie is based in Newcastle but will be rolling out nationwide delivery – there's plenty of treat boxes and gluten free gifts for Christmas on the website.
Buy this gluten free gift: https://thenakedfoodie.co.uk/shop/ols/categories/christmas
10. Vegan & gluten free Christmas box from Rachel's Cake Delights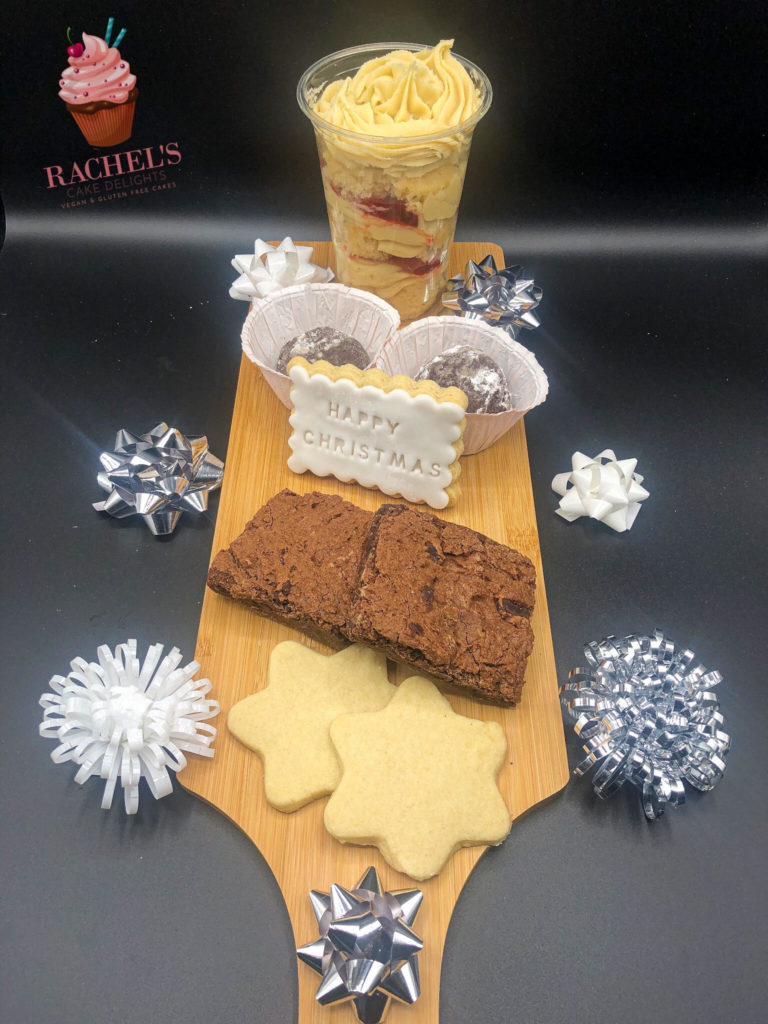 As Rachel herself says, if you're unable to be present in person this festive season, send a Christmas box to your favourite gluten-dodging vegan in the post. Whack on Slade, jump on Zoom, then sit and eat cake together. These gluten and dairy free Christmas gifts are also suitable for coeliacs.
Buy this gluten free gift: https://www.rachelscakedelights.co.uk/?s=Christmas+box
11. Booja-Booja vegan & gluten free truffles
This award-winning independent chocolate maker has entire range of THE most delicious gluten free, dairy free, soya free, vegan and organic truffles. From stem ginger to midnight espresso, the flavours are so decadent they should be illegal. Especially the champagne truffles. GOOD LORD. Takes a lot to impress me with vegan gluten free chocolate (so much of it is disappointing) but Booja-Booja is divine.
Buy this gluten free gift: https://www.amazon.co.uk/Booja-Booja-Award-Winning-Selection-Chocolate-Truffles
Gluten free alcohol gifts
12. Gluten free craft beer advent calendar
Buying beers for gluten-dodgers can be a minefield. Luckily, Bury-based company Beerhunter have handpicked 24 cans & bottles from all over the world as part of a gorgeous gluten free advent calendar.
I was delighted to be gifted a box, which came with a satisfying schooner glass, bottle opener and delicious cashew snacks to accompany (they were BEAUT). My boyfriend never brings gluten beer into the house (after a nightmare incident involving a home-cooked meal and a particularly gassy can of Guinness) so he had a really fun time sampling them! The Satzuma Gluten Free Session IPA 4.5% by Thornbridge was the absolute favourite – such a lovely way to find new drinks.
Whether you're on a gluten-free diet or would rather drink gluten free to keep your partner safe (no kisses with lager lips!) this is the perfect gluten free gift. Oh, and FYI: if you're shopping last minute for gluten free gifts by post, they even do next-day delivery.
Buy this gluten free gift: https://beerhunter.co.uk/product/gluten-free-craft-beer-advent-calendar-2020-with-schooner-glass-bottle-opener/
Gluten free non-alcoholic gifts
13. Award-winning Christmas tea selection gift box
Based in the south coast of England, this stunning little company put together the loveliest gifts (I bought a three-month tea subscription for my Mam's birthday and she LOVED it). Their festive fan-favourite is a tea selection gift box that your cuppa-loving recipient can get 35 cups out of. It includes award-winning blends such as Snowball & Gingerbread Chai, Salted Caramel Lebkuchen, Irish-coffee-flavoured Fairytale of NY & the brand new Panettone (it's gluten-free, don't let the name put you off!).
Buy this gluten free gift: https://birdandblendtea.com/uk_en/tea-gifts/tea-gifts-by-type/best-selling-tea-gifts/the-christmas-tea-gift-box.html?___store=uk_en
14. Seedlip non-alcoholic spirit
What do you buy your gluten-free alcohol-free friend or family member for Christmas? Mmay I recommend Seedlip. I'm so pleased I found this company (thanks Pizza Express!) who devised the world's first distilled non-alcoholic spirit. Made up of herbs, spices, peels and barks, they make a refreshing change from the usual sugar-packed soft drinks for adults. If you're unsure which bottle to buy, there's a trio gift set which includes aromatic Seedlip Spice 94, herbal Seedlip Garden 108 (my fave) & citrus Seedlip Grove 42. Makes a gorgeous, sophisticated gluten free gift for non-drinkers.
Buy this gluten free gift: https://seedlipdrinks.com/uk/shop/20cl-trio-gift-box
Gluten free funny gifts
15. Gluten is my Bitch: Rants, Recipes and Ridiculousness for the Gluten-Free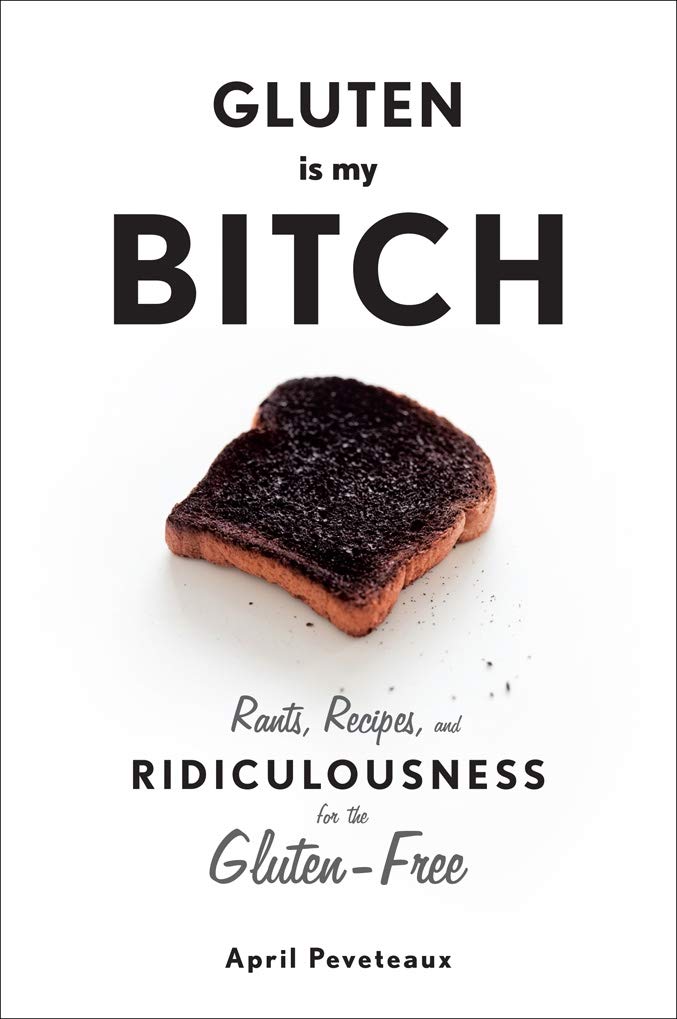 This was the first gluten-free books I read and it was the most brutally honest, light-hearted take on life without croissants. Aside from lots of the information relating to American products, April Peveteaux is completely relatable (and funny AF). Oh, and useful too! Tips on staying safe with cross-contamination, eating out, sharing kitchens, and 40 gluten-free comfort food recipes. Lovely.
Buy this gluten free funny gift: https://www.amazon.co.uk/gp/product/1617690309/
16. Iconic hoodie from I'm Fine Attire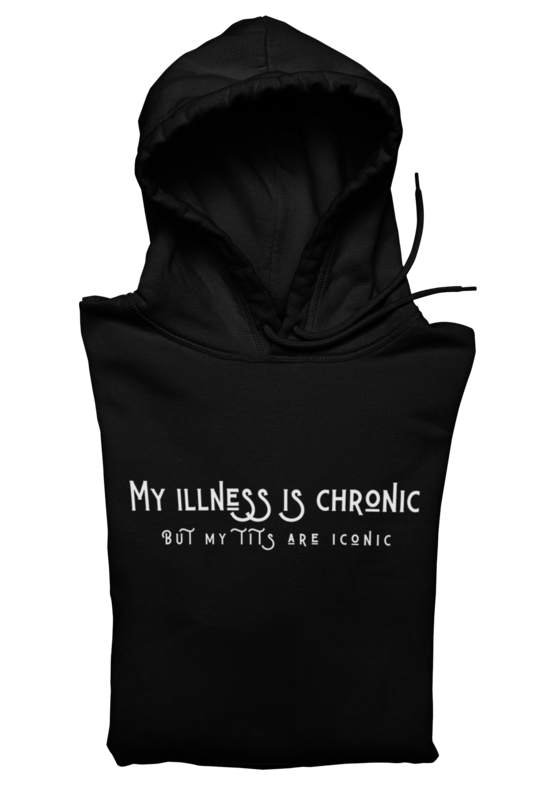 This is the second time I've included this brand, but 1) I think the owner is lovely + funny AF, 2) her clothing looks SO comfy and 3) she's created the world's first heat-pocket jeans! What a legend. Anyway, this one's maybe not a gift for your gluten-free granny – but it's absolutely brilliant for your mate with a good sense of humour (which is basically, the only way to cope with coeliac disease and other chronic conditions, right?).
Buy this gluten free funny gift: https://imfineattire.com/collections/new/products/iconic-hoodie
17. Gluten free chocolate gifts
I've recently discovered lots of gluten free chocolate UK buyers can easily buy in supermarkets. My family asked me for a list of my favourites so they knew what was safe to buy. So, here they are! Gluten free chocolates galore! (Please note: these are all safe at the time of writing (Nov 2020) but manufacturers can and do make changes, so always do your own research as well, and check ingredients when you buy).
All Quality Street Sweets
Walnut Whips (Nestle)
Nestle Whip: classic, caramel, mint
Toblerone (all flavours)
Quality Street Orange Matchmakers Box
Quality Street Mint Matchmakers Box
Quality Street Honeycomb Matchmakers Box
Quality Street Salted Caramel Matchmakers Box
After Eight Mints
Lindor Strawberries and Cream truffles
Lindor white chocolate truffles
Lindor white chocolate bars
Lindor Excellence a Touch of Vanilla white chocolate bars
Aero Peppermint Bubbles
Aero Milk Chocolate Bars & Sharing Blocks
Aero Peppermint Chocolate Bars & Sharing Blocks
Aero White Chocolate Bars & Sharing Blocks
Aero White Chocolate Bubbles
Rolo Chocolate Sharing Block
Milkybar Giant White Chocolate Buttons
Milkybar Milk & Crunchy
Toffee Crisp Chocolate Sharing Block
M&S Belgian Flaked Truffles
M&S Swiss Chocolate Truffle Assortment
Links to allergy info:
Here's the full list of Nestle's gluten-free chocolate.
Here's Lindt's clarification of its gluten free Lindor truffles. PLEASE NOTE: only the three I've listed are gluten free – all other boxes and chocolates contain barley malt.
Here's Toblerone confirming all flavours are free from gluten. Also, just noticed the company does personalised sleeves for gluten free gifts. Bit pricey but cute touch!
Here's Marks & Spencers info on allergy labelling (they're so careful with it, so if it's not labelled as an ingredient or may contain, it's not in there!)
Gluten free sweets & stocking fillers
18. Gluten free pick 'n' mix box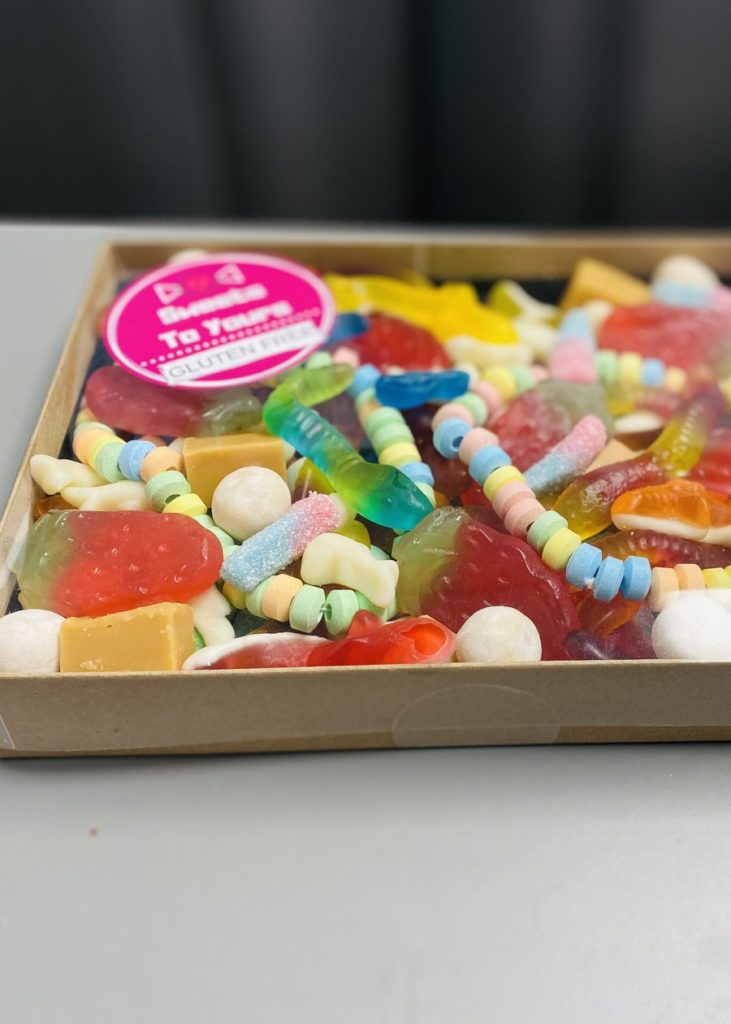 It makes me sad when I can't join in the pick 'n' mix fun with my mates, but Sweets To Yours is a dreamy UK brand that delivers coeliac-friendly sweetie boxes to your door! With a mouthwatering mix of classic sweets, retro faves, sours and more, you honestly can't go wrong with this as a gluten free gift this Christmas.
Buy this gluten free gift: https://www.sweetstoyours.co.uk/collections/gluten-free/products/copyof-750gm-mega-sweet-box-gluten-free-coeliac
19. Marshmallow Fluff – gluten free stocking filler
Okay, I'm a big kid who will more than likely suffer from premature dental problems, but I was happy as a fluff-eating Larry when I discovered Marshmallow Fluff was gluten free! It's just the ultimate American spread – kids who feel like they can't eat fun stuff will love it. You can get it from Sainsbury's and the strawberry version is on Amazon (trying to promote more small businesses but couldn't leave this out!).
Buy this gluten free gift:
Gluten free Christmas gift recipes books
The gifts that keep on giving: gluten free Christmas gift recipe books!
Here are a selection of my favourites & ones on my to-read list:
20. Anything from the NOSH family:
21. Phil Vickery's Essential Gluten Free

22. River Cottage Gluten Free
23. The Green Roasting Tin: Vegan + Vegetarian One Dish Dinners
Not entirely gluten-free but it has loads of AMAZING gluten free dishes. In fact this is probably my most-used cookbook.
24. Eat Up: Food, Appetite and Eating What You Want by Ruby Tandoh
Though it only has one coeliac-friendly potato-based recipe, this is one of my favourite food books I've ever read. When I was recovering from an eating disorder, it helped food feel like home again. Beautiful writing by Ruby Tandoh, who I adore!
24. How to be Gluten Free and Keep your Friends
Probably one for the gluten free funny gifts list, but it has 50 lush-looking recipes to cook for yourself, friends & family as well as 50 tips, tricks & hacks for being a more easy-going gluten-dodger – I NEED THIS.
25. Gluten Free On A Shoestring
Gluten free gifts for children
26. Gluten free play dough set
Boooo, the original Play-doh contains gluten! To avoid the risk of kids getting it over themselves or putting it in their mouth, a clever family business called SES Creative has created this mega play dough set. It's completely gluten free and doesn't dry out, plus there's all kinds of colours included (including sparkly clay!). I love this added FYI: "The clay is extremely salty, so that children will not eat it". These guys think of everything!
Buy this gluten free gift for children: https://www.amazon.co.uk/ES-SES-00459-Mega-Clay/dp/B0167AN1T8
27. Gluten free lunch bag
Little ones can feel special (and avoid any gluten-consuming accidents) with their own special lunch bag. Put their special gluten-free food in here to make sure there's never any mix-ups at school, birthday parties or friends' houses ever again. Ideal for grown-up packed lunches too, I actually created these gorgeous ethical jute bags to separate my own work lunches from family members.
Buy this gluten free lunch bag: https://www.etsy.com/uk/listing/745649338/gluten-free-lunch-bag-coeliac-gift
28. Gluten free cookbook for kids
I'm Happy Being Gluten Free is a cute little cookbook for children with gluten intolerances or coeliac disease. Written from a kid's point of view, it includes plenty of pictures to help little ones choose new foods to try (particularly great for picky eaters!). Recipes include French toast with berries, choc-chip pancakes, "rolly cheese polly" hot dogs, chicken noodle soup, cheesecake and quick caramel apple pie. There's handy pages on birthday parties, symptoms and gluten free tips around the house.
Buy this gluten free gift: https://www.amazon.co.uk/dp/0615636632/ref=cm_sw_em_r_mt_dp_kMRUFbJSEAATC
29. Personalised kids drink bottles
Mixing up your own drink with someone else's isn't always a big deal, unless your body severely reacts to gluten. Make sure little ones have their very own water bottle to avoid accidental cross-contamination – these personalised mermaid and monster bottles are handmade by the lovely Angela at Purple Orchid Printing in Durham. Add something like 'Emily's gluten free bottle' or 'This belongs to Jack – no gluten allowed!' – kids love having their own special stuff! Delivery nationwide.
Buy this gluten free gift:
Monster: https://www.etsy.com/uk/listing/753615850/monster-water-bottle-can-be-personalised
Mermaid: https://www.etsy.com/uk/listing/767494249/mermaid-personalised-water-bottles

I hope these gluten free gift ideas have helped! All of them are available to post to yours or your recipients home, plus you can schedule a lot of the foodie deliveries closer to Christmas. Eeeep! Let me know if you order any, and if your lucky gift-receivers loved them!
Have a chilled, homely, safe, happy Christmas season – and if you're gluten free yourself, then I hope you're getting all of the festive free-from treats!
Love, Nina x
P.S. feel like baking your own gluten-free prezzy? Try my Mam's gluten-free Christmas pudding cheesecake recipe – a winner in our house!
P.P.S. give me a follow on Facebook + Instagram for more ideas, recipes & gluten-free supermarket finds!
---
---