The ultimate guide to gluten-free Sorrento
Italy isn't the first place you think of when it comes to gluten-free dining. Avalanches of flour, chefs tossing sticky dough and bowls of wheat-laden spaghetti whizzing by your head: a trattoria kitchen is to gluten-dodgers what Snake Island is to Brazil.
But I've visited the country twice this year, once on a trip to the capital and then again to the south-west; the coastal gem of Sorrento. When I dived into Google for tips on eating gluten-free in Sorrento, I didn't find an awful lot. It was only when I posted in the 'Coeliacs Eat Abroad' group on Facebook (which I urge you to join if you travel), that my stresses were diminished.
I needn't have worried. Once I arrived and started exploring this dreamy destination it was hard to find places that WEREN'T gluten-free. So much so, my family got sick of me stopping to take photos of menus (oh, the life of a food blogger). But it was worth it, because it allowed me to pull together this super-handy guide to eating gluten-free in Sorrento.
Whether you're looking for gluten-free restaurants in Sorrento or hankering for the ultimate gelato spot, you won't be disappointed with this delicious bunch:
Where to eat gluten-free in Sorrento
Foreigner's Club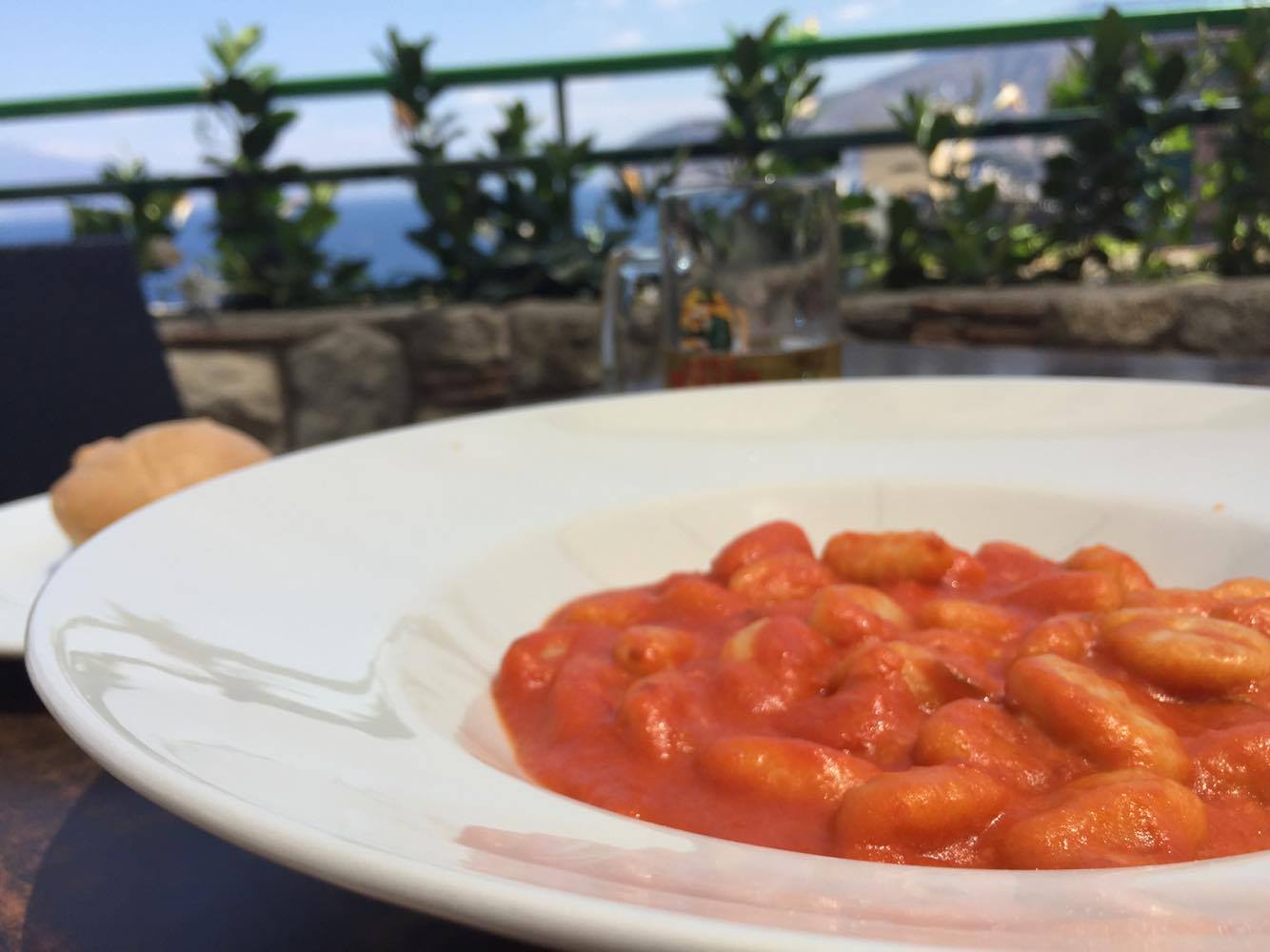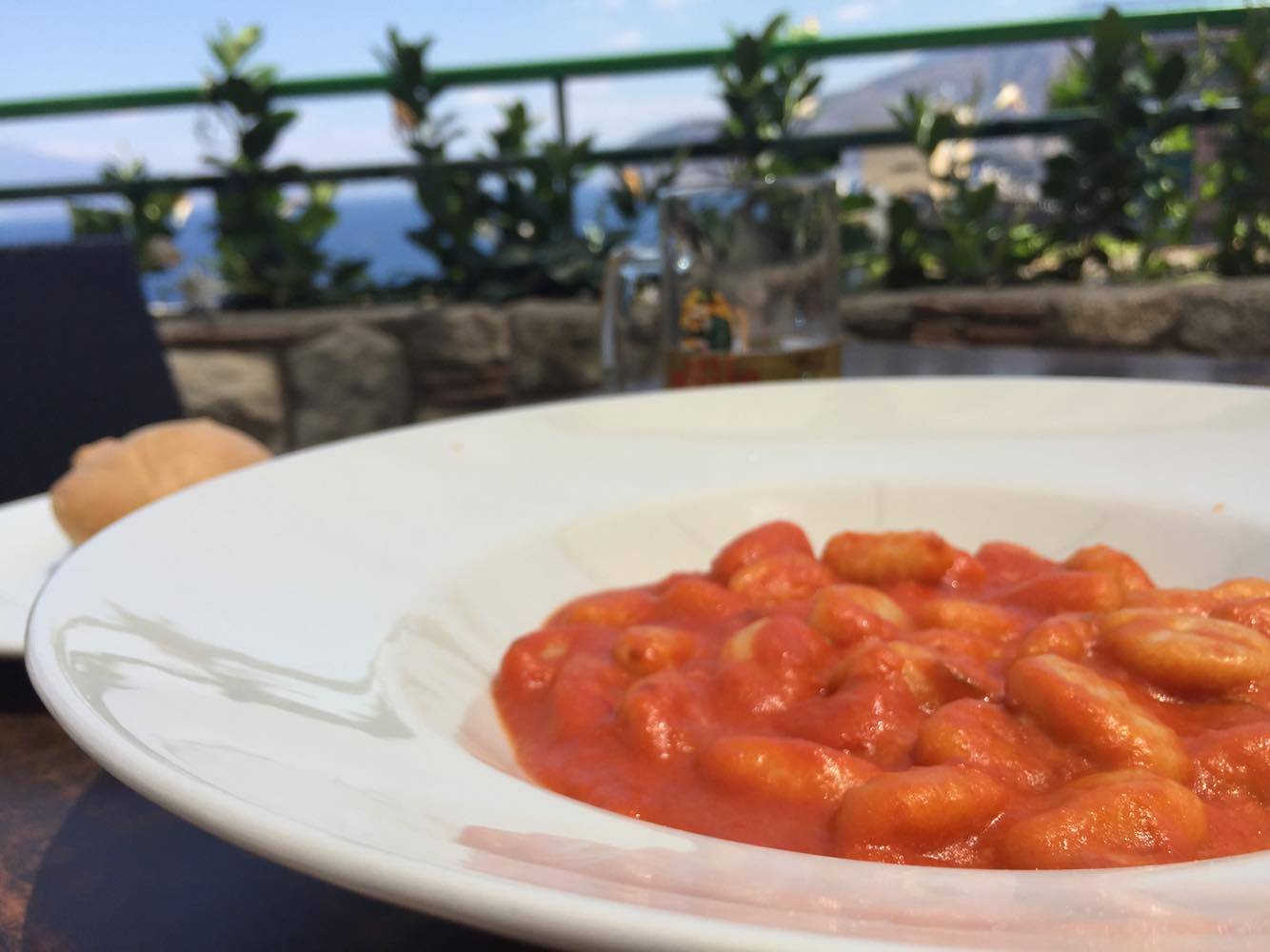 Favourite place for gluten-free in Sorrento – I loved it so much (and ate there so many times) that I have written a full gluten-free restaurant review, where you can see what I ate in more detail, plate by plate. In short, this tucked-away gem is a coeliac's paradise – go ahead and dine on a medley of different pastas, pizzas, risotto and salads, as well as meat, fish and seafood dishes. They even do a gluten-free Peroni, with a free helping of handsome Vesuvius views.
2. O'parrucchiano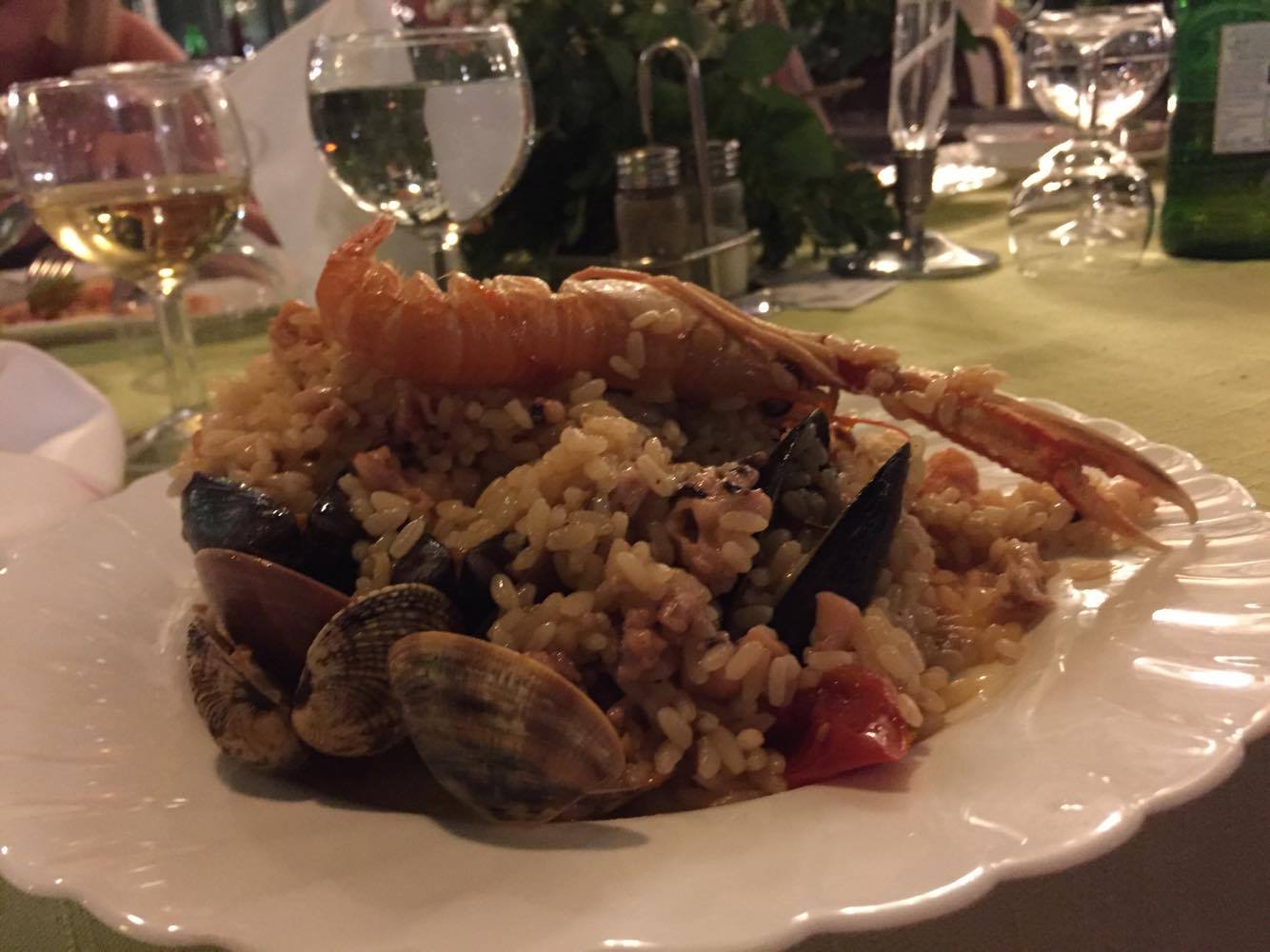 In a word – breathtaking. Opened by a priest in 1868, O'Parrucchiano is the oldest trattoria in Sorrento and the birthplace of cannelloni. The enchanting restaurant-cum-greenhouse stole my heart – read my full gushing gluten-free review of the lemon-tree-speckled haven. I tucked into a vacuum-sealed no-gluten roll to start and an eye-widening mountain of seafood risotto. Gluten-free pasta was also available, but I always plump for the naturally gluten-free dishes where possible for a true authentic taste. And it didn't disappoint. Magical place to dine, even if you're not eating gluten-free in Sorrento.
3. Ristorante La Fenice
Not much of a view in this place compared to the previous two (tough competition, to be fair) but the food here is accredited by the Italian coeliac society. As a result, the staff are VERY clued up, making it a top choice for gluten-free food in Sorrento. Always good to feel safe when you're dining out in a foreign country. Go ahead and take your pick from pizza, pasta, meat and fish dishes. I only ate here once and the chips were my favourite thing: proper Grandma-style pan-fried beauties, fried separately to everything else. My only mistake here – I ordered a pizza but didn't realise it would be tomato-less. Noticed this a lot in Rome too so choose wisely and avoid pizza bianca (white pizza). Could only eat half as it was mega heavy and still think I left the restaurant about a stone heavier.
4. Cafe Latino Sorrento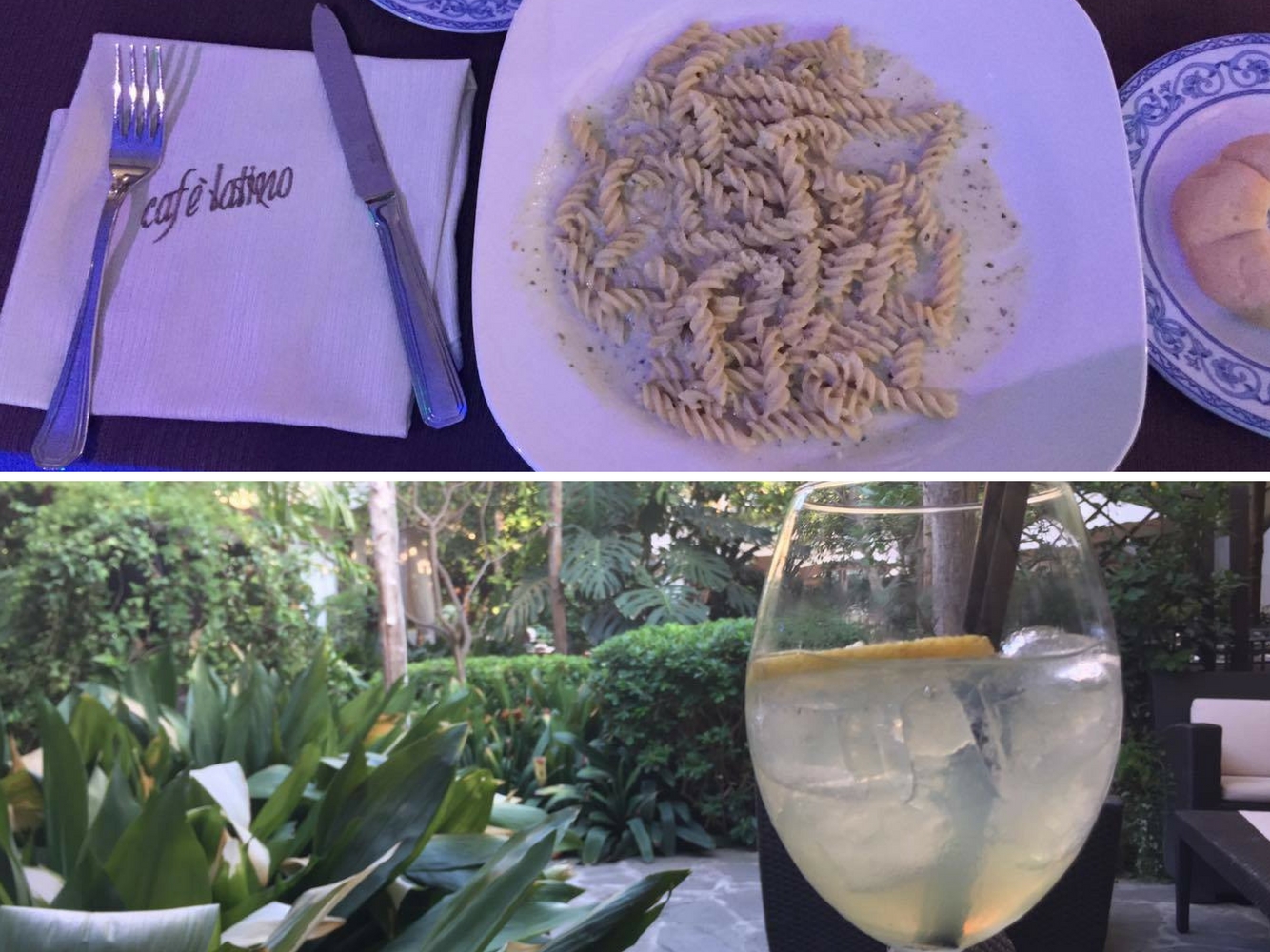 As you're strolling down Main Street (where all the English and Irish bars are), you'll no doubt pass the illuminated entrance to this modern restaurant. Choices on the dedicated coeliac menu is far from slender – lots of pasta, grilled meat and fish dishes, with what I'm sure was warm Schar bread rolls to start. Even if you're not eating, this is an ideal place to chill out with a limoncello spritz and enjoy the nightly live musician who does a super-niche acoustic version of YMCA. Yes, really.
5. Ristorante Zi'Ntonio Mare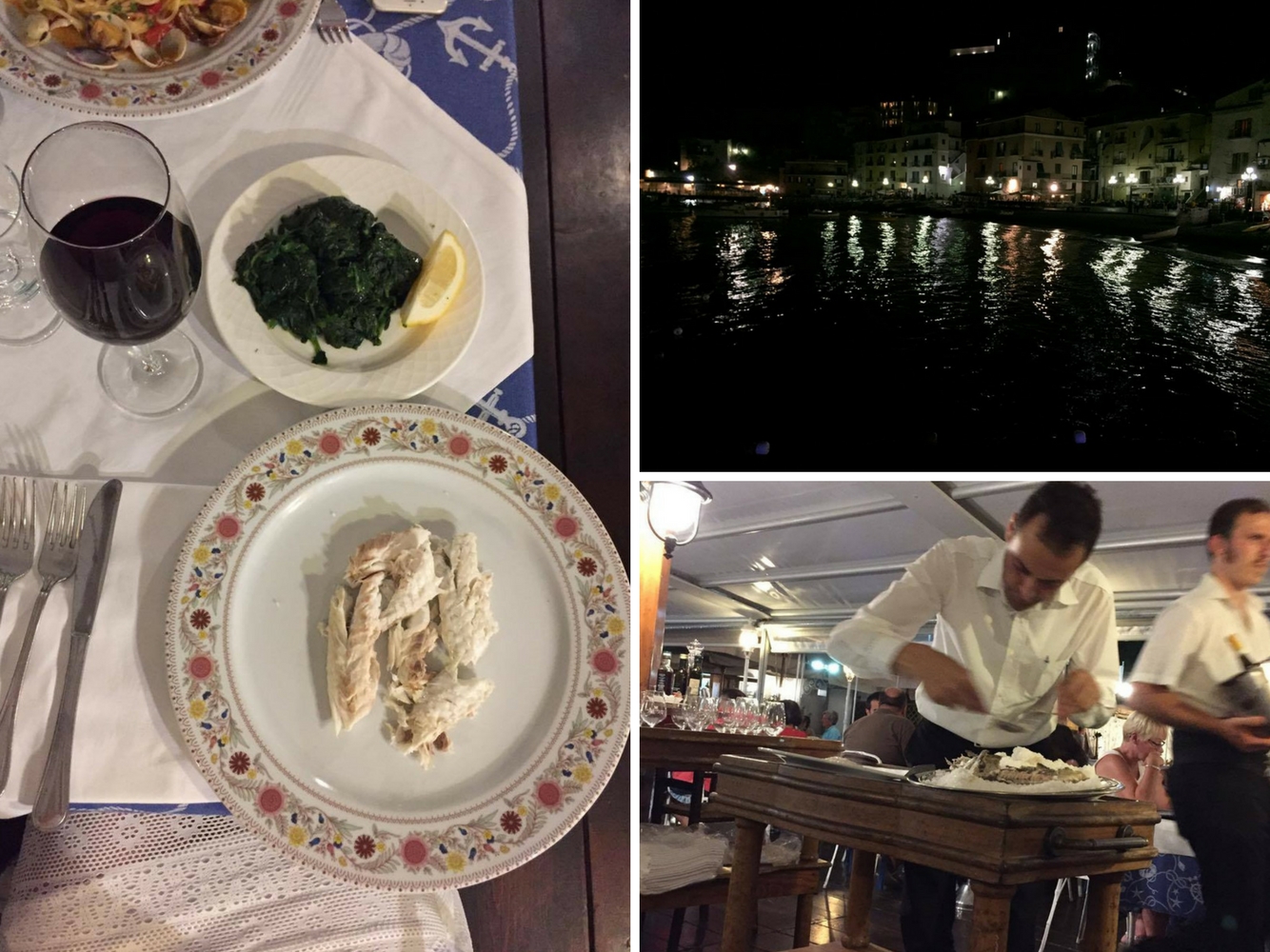 Beautiful spot to eat right over the water on Marina Grande – it was a bit of a pricey meal but maybe because I ordered the salt-baked seabass. When in Rome, right? Okay, wrong post. There wasn't a gluten-free menu or anything which usually freaks me out but the staff told me what I could and couldn't have – lots of stunning seafood and veg options. There's another restaurant on the marina that apparently offered gluten-free fare but I didn't catch the name – you're sure to spot the character outside luring people in, though.
6. Il Borgo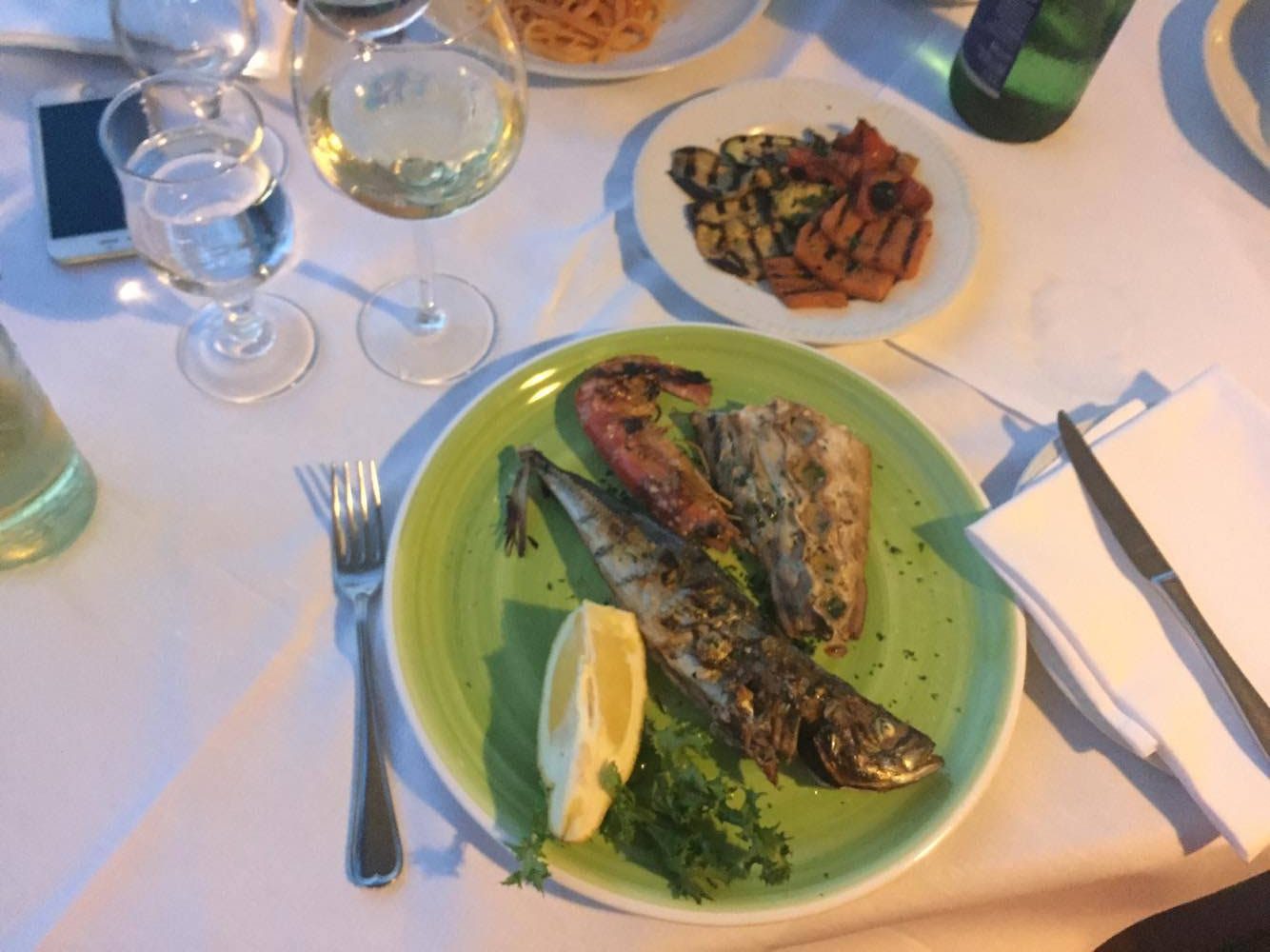 Our hotel organised a shuttle service to this restaurant as it's a bit out the way – up, up and up the hills! As you can imagine, the view is phenomenal. There wasn't heaps of gluten-free choices for me again, but the majority of seafood was safe. I had charcoaled mackerel, bream and gamberoni with grilled Mediterranean veg. Not top on the list of gluten-free Sorrento offerings, but it catered.
7. Antica Gelateria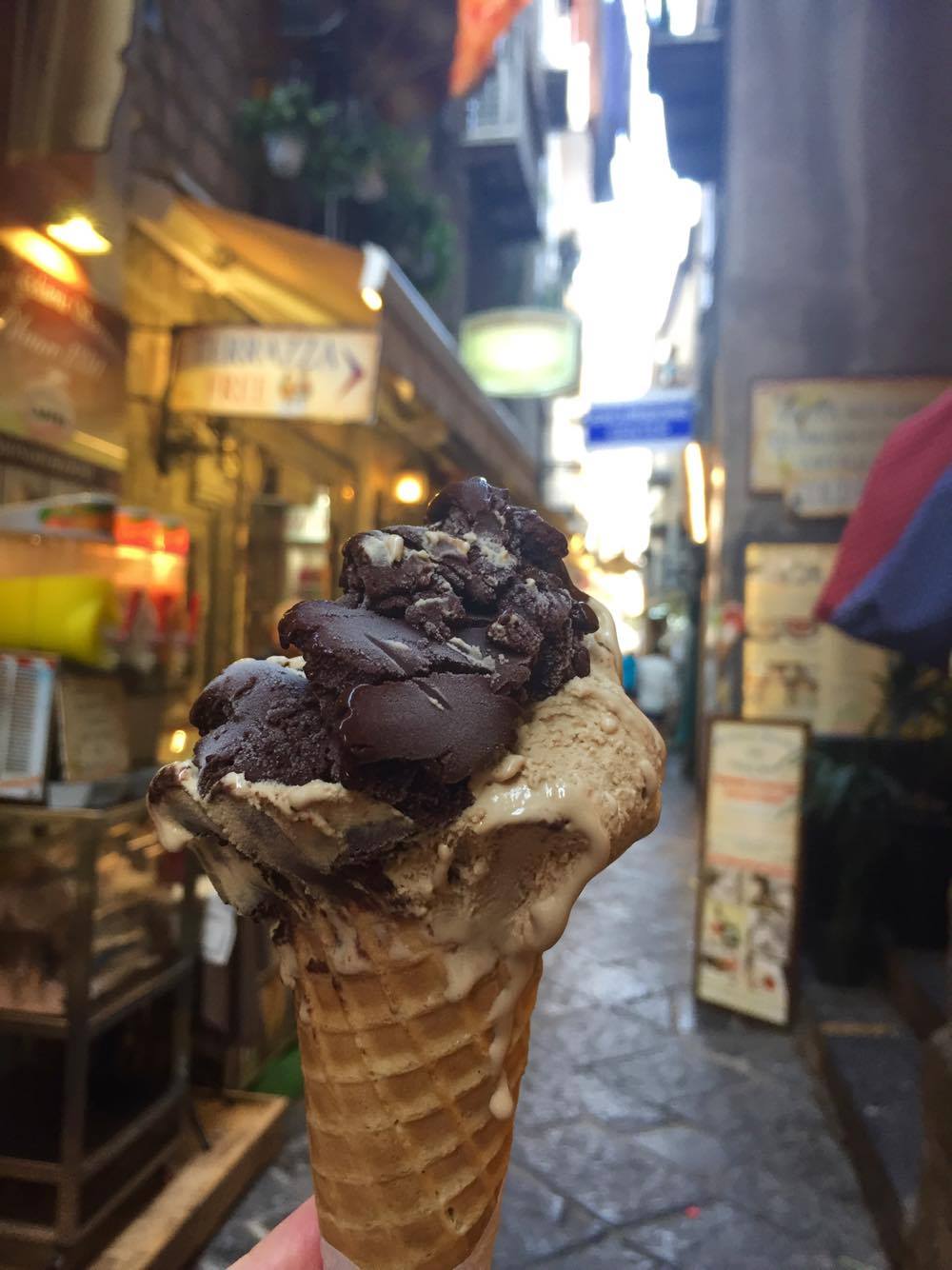 This place was HEAVEN. Best gelato ever. It's an adorable little gelateria tucked away in one of Sorrento's cobblestone side-streets, owned by a gorgeous Italian lady who knew all about coeliac disease. Expect separate ice-cream scoops, gluten-free cones and the reassuring knowledge that ice-cream is all prepped without cross-contamination, too. Prepare to be plied with spoonfuls of flavours before you choose – Mama Antica takes great joy from it. She even uses her own lemons for the lemon sorbet, which wakes up your tongue with fresh zestiness. It was a tough decision, but I bought a cone with one scoop of chocolate and one scoop of coffee ice-cream. Great choice it was, too.
8. Bar Veneruso
This place is also on Main Street (near Cafe Latino) where I bought the cutest freshly baked biscuits. I'd walked past it every day and hadn't realised they offered so many sweet delights and even advertised gluten-free pizzas and paninis.
Other places to eat gluten-free in Sorrento
There are a few other places I didn't have the chance to try, as I was only in Sorrento one week (day-tripping to Capri and Pompeii during my stay). They all looked pretty grand to me – so I hope someone else can try them out and let me know what they're like! Firstly, there's a pretty little street (Via Padre Reginaldo Giuliani) leading round to a big church where most people in Sorrento get married. It had THREE gluten-free restaurants pretty much next door to each other but I never tried any in my week there. They were called Blu Water restaurant (advertised two ravioli dishes and seafood spaghetti – the waiter also said they used rice flour and separate fryers), L'Antica Trattoria (3 courses and dessert for 55EU) and Ristorante Sorrento – impossible to miss with its big GLUTEN FREE sign advertising pizza and pasta.
As you head to Piazza Tasso, slap bang in the middle of everything, you'll find Fauno Bar. I spotted senza glutine offerings on the menu so would've tried this place if I had longer. Just round the corner from here is a heart-stopping surprise: a massive drop in the ground that looks over a massive valley caused by a volcanic eruption. It's home to an eerie abandoned flour mill – you can't get down but the sight from the bridge above is spectacular.
Gluten free hotels in Sorrento
If you're looking to be catered for gluten-free in Sorrento, check out Hotel Rivage. We sat here to have a drink on our first night trying to figure out where the heck to eat. I was almost in tears as I didn't want it to be a stress for the family and the nearest place I could see was miles away (it wasn't, unbeknownst to me Cafe Latino, Ristorante La Fenice and Bar Veneruso were less than a five-minute walk away). It was only on our last night that I spotted the menu walking past. Coeliac menu with pasta, risotto, bread, salads… the lot! Ah, if only I'd looked.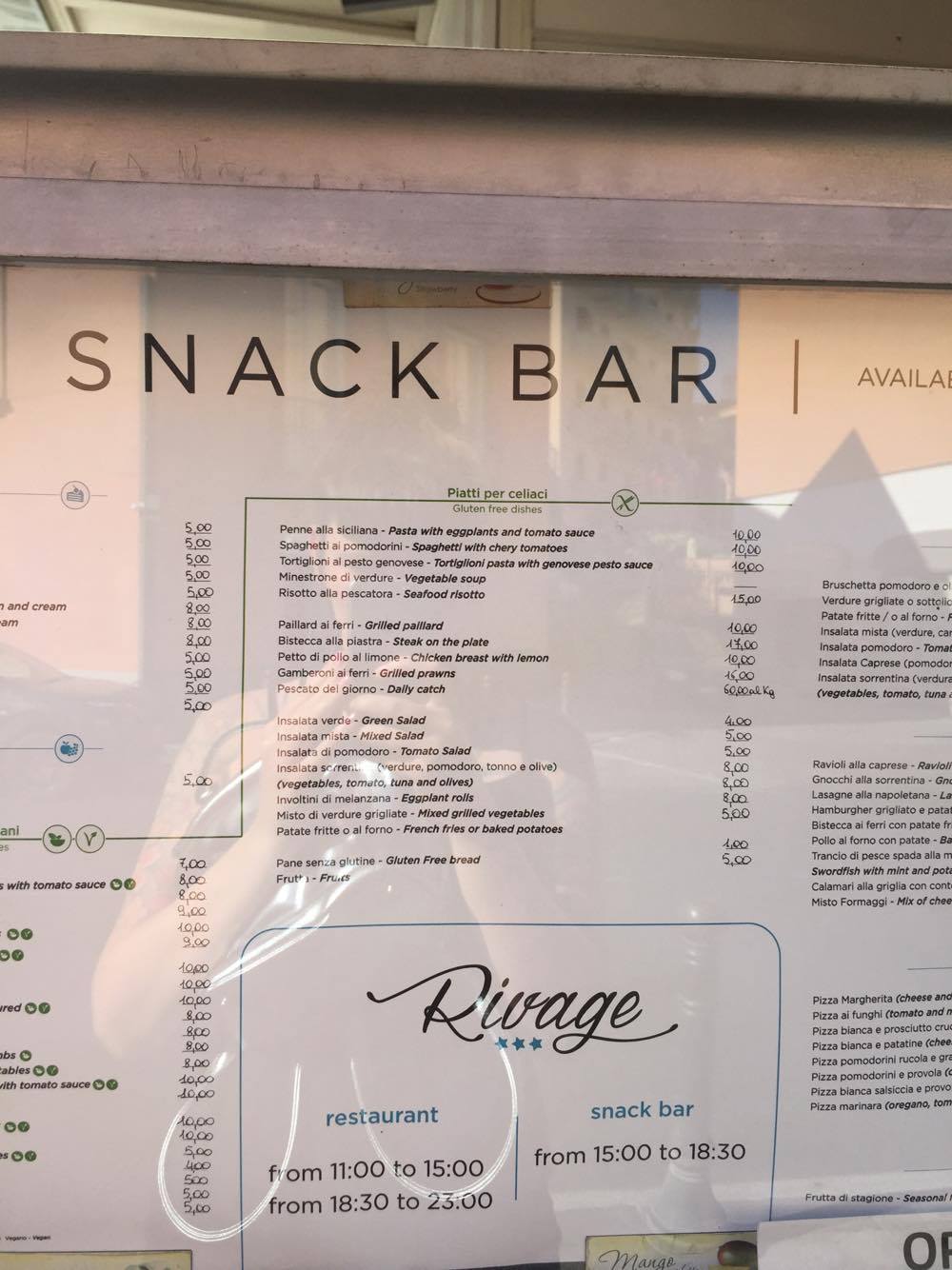 During my week in Sorrento, however, I stayed at Hotel Metropole. Every morning, waiting staff supplied me with gluten-free toast, biscuits and crackers. For lunch, I ordered the mozzarella and tomato, using my own buns (which they were fine about). Do let me know if you stay anywhere that great for gluten-free in Sorrento!
If you're staying in a self-catering apartment, lots of the bigger supermarket-style shops will have plenty of bread, crisps, crackers and so on. You'll also notice the fridges in convenience stores are packed with gluten-free ice-creams. No matter where you are, you can probably pick up a packet of crisps and a Magnum. Not very Italian, but it curbs the hanger.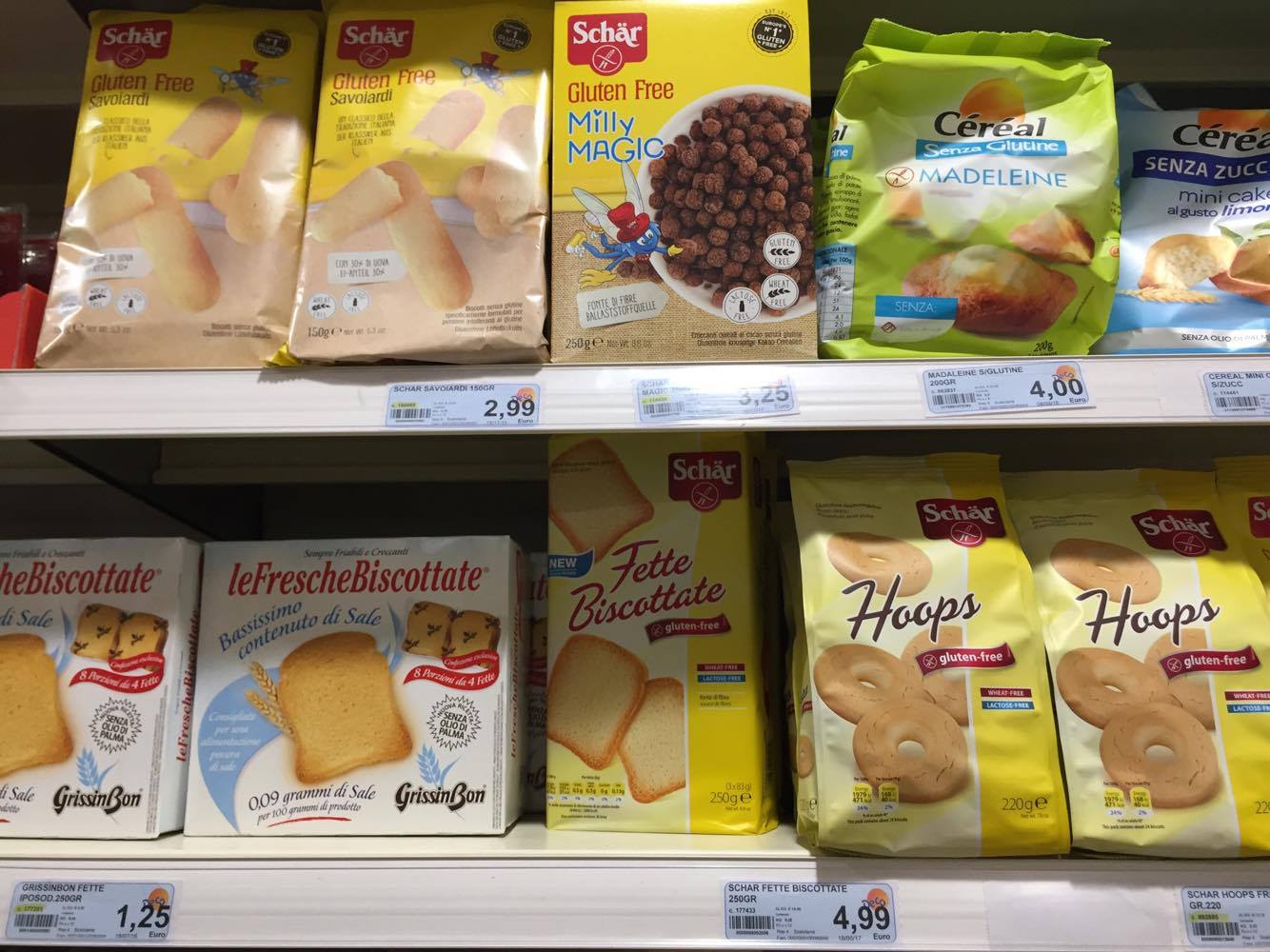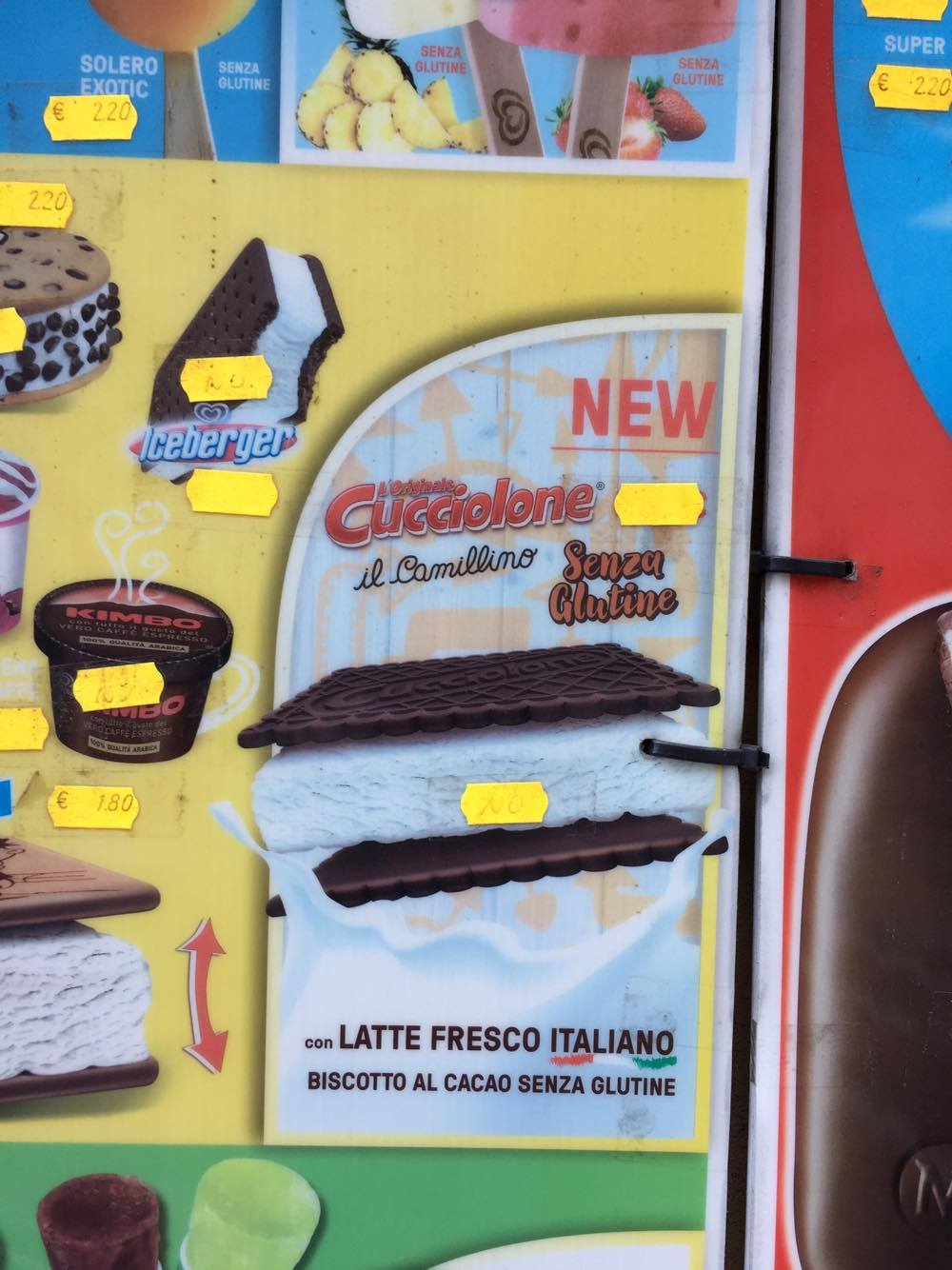 I really hope this guide comes in useful – I wish there'd been something like this when I was doing my research! Do let me know if you've sampled any of these gluten-free Sorrento delights, I'd love to know what you think. Likewise, let me know if there are any other gluten-free places to eat in Sorrento that I've missed. I'm sure there are dozens. For now, arrivederci and happy gluten-free travels!
---
---